$

$

Acorn Stari Lift Average Price: $2,000-$5,500

$

$

$

Premium Acorn Stair Lift: up to $20,000
Stair lifts are customized seats that were created to lift a person from one floor to another, avoiding using the stairs.
The chairlift is installed on the stairs of a house and a person can sit on it to be transported from one floor to another, letting them go up and down the stairs without using their feet.
Many people install stair lifts inside their homes due to different numbers of reasons, being the principal old age and injuries, but anyone with difficulties using stairs can get a stair lift to solve this problem.
The Acorn Stair Lift is one of the most renowned brands that offer stair lifts and solutions for many people that can't get up and down the stairs on their own, along with many other features to make the user more comfortable.
What Factors Can Affect The Price Of An Acorn Stair Lift?
The price of an Acorn Stair Lift will depend on the model of stair lift, the features, the installation, the dealer, and where you are located.
An Acorn Stair Lift can cost from $2,000 to $5,500 with installation on average, but prices can go up to $20,000 depending on the factors mentioned above.
Also, depending on the model of the stair lift and the type of stair they are made to, the price of the unit professionally installed can vary:
| | |
| --- | --- |
| Type of Stair Lift | Average Cost |
| Straight | $2,000 – $8,000 |
| Standing | $3,5000 – $10,000 |
| Outdoor | $4,000 – $12,000 |
| Platform | $5,000 – $20,000 |
| Curved | $8,000 – $20,000 |
Top companies
Acorn is one of the most renowned brands of stair lifts on the market, but there exist other stair lift brands such as: Savaria, Bruno, Harmar, Stannah, Sterling, and Ameriglide.
The quality and reputation each brand offer is different, the same as the prices; Fixr.com made a comparison between different stair lifts brands and the average prices they offer:
| | |
| --- | --- |
| Stair Lift Brand | Average Cost |
| AmeriGlide | $2,000 – $5,000 |
| Harmar | $2,000 – $5,000 |
| Acorn | $2,000 – $5,500 |
| Handicare | $2,000 – $5,500 |
| Stannah | $3,000 – $6,000 |
| Bruno | $3,000 – $6,000 |
Things to know
Before buying
Typically, a professional surveyor will be sent to your home to review your stairs and give you a quotation.
Usually, Medicare doesn't cover these products, but there are certain health insurance plans that help pay for a stairlift.
Buying a pre-owned stair lift is cheaper than buying a new one and can save you as much as 50%.
Ask for the warranty of the stair lift. Most brands offer warranties for 1-2 years, but some companies offer 10 years or even lifetime warranties.
When buying
Depending on the dealer, the installation may or may not be included.  Installing a stair lift can cost from $500 to $2,000 per installation. Asking a handyman or carpenter to install the stair lift is cheaper and can cost from $75 to $100 per hour.
When installing the stair lift, this will be fitted to the staircase, not the walls, avoiding damaging or changing any other part of your home.
Be aware that stairlifts have a weight limit and should only be used by one person at a time. Stairlifts typically can handle 200-250 pounds of weight. There exist heavy-duty units that can handle more weight and are typically required by wheelchair users or heavier individuals.
After buying
The batteries of a stair lift are known for going bad over time. If the warranty doesn't cover it anymore, you'll need to replace them, which typically cost about $35 each.
There are certain add-ons that can be installed to your stairlift to improve the user experience such as remote control ($50 – $150) and speed control ($75 – $200).
You should have your stairlift checked once a year to ensure that they stay in safe working order. Usually, subscribing to an annual plan for checkups and maintenance can cost $100 to $200.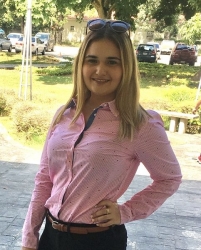 Latest posts by Giovanna Soto
(see all)