$
AirStone: $50 for every eight square feet of surface
An AirStone is a type of man-made stone that is used typically to cover walls, and it can be used on any surface.
The material which is made the AirStone is very lightweight, as it weighs less than 75 percent of an actual stone, which makes it cheaper than an actual stone and easier to use as it can be glued into place.
AirStone creates the illusion of having real stones on your walls without using and paying for a real stone and the high installation costs.
What Are The Characteristics Of An AirStone?
It comes in three colors: Autumn Mountain, Vineyard Blend, and Spring Creek.
It's environmentally friendly and made from 80% recycled materials.
It's non-combustible, non-flammable, and has a Class A ratio in accordance with ASTM E-84 standards.
The stone comes in different types: corner, flat, and natural edge stones.
Pieces will be either two or four inches in height and will have lengths that vary from four to 12 inches.
The containers of AirStone will either be measured by the number of square feet or the number of linear feet contained in the box.
All AirStone products come with a limited warranty.
What Affects The Price Of Buying And Installing An AirStone?
The final price of replacing installing an AirStone will depend on the surface you want to put the AirStone on, and the type of AirStone you want to buy.
Typically, installing an AirStone can cost on average $50 for every eight square feet of surface; this price includes the materials only.
Typically, there are no labor costs due to how easily is for buyers to install the AirStone themselves, so most people skip out on the professional contractors.
Top Companies
AirStone is an exclusive product sold by Lowe's, which means it's impossible to buy in another store, and it can only be found at Lowe's.
Lowe's charges for a box of eight square feet of AirStone $60 on average.
Things to consider
Before Buying
Have the surface you want to install the AirStone on the measure before getting a quote.
When Buying
Installing an AirStone is easy, but you'll need to have a bucket of adhesive to do it yourself, which typically cost around $15 to $20. Lowe's recommends a premium construction adhesive that can be applied with a caulk gun.
Other personal items to use when installing the AirStone so you are the most comfortable while doing it are a caulk gun, rags, gloves, and a putty knife.
It's important to know that AirStones work really well over brick, ceramic tile, stone tile, stucco, cement board, concrete, and drywall. Wood surfaces, wallpapered walls, floors, and ceilings are not surfaces recommended to use AirStone on.
After Buying
AirStones come in a variety of designs, models, colors, and textures, but if needed, painting can be done after installation if you want to change the colors.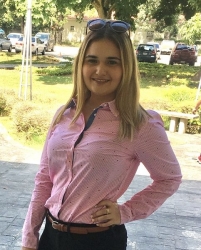 Latest posts by Giovanna Soto
(see all)