$

Bundle Price:$16-$30 (shingles only)

$

$

For 100 Square Feet: $48-$90 (shingles only)

$

$

$

Professional Installation For 100 Square Feet: $300-$600+
A house is not complete without the roof, that's why choosing the right roof for you will determine the overall house experience for many years to come.
Nowadays, there's a trend among homeowners when it comes to roofs, which is using architectural shingles for their roofs.
Architectural shingles are one of the newest versions of shingles in the market; they are made from fiberglass that has been laminated, which means they are highly durable and long-lasting while still being attractive for a roof.
Architectural shingles are so durable that they typically have a 25-50 year of warranty, and they are so resistant that can stand winds as high as 120 mph, along with rain and snow.
What Affects The Price Of Architectural Shingles?
The final price of installing architectural shingles will depend on many factors like the quality of the shingles, the style, colors, availability, the warranties, the geographical location, the contractor, and premium features that come with the shingles.
The average bundle price of architectural shingles is around $16 to $30; a bundle represents three to a square, having a square covering 100 square feet.
Then, for every 100 square feet, architectural shingles could cost $48 to $90 for the shingles alone.
The professional labor costs can go from $300 to $600 or more per 100 square feet.  
Top Companies
You can find different types of architectural shingles at national stores like Lowes and Home Depot, and also at online retailers like Menards, ABC Supply, and Amazon.
There are many brands that manufacture and sell architectural shingles, such as Atlas, GAF, Corning, Certain Teed, Tamko, Elk and Owens.
RoofSimple.com provides an overview of the best shingles manufacturers and a buyer's guide.
Things to consider
Before Buying
Research the different styles, colors, and brands of architectural shingles there are to choose the one that fits your needs and taste.
Check the different retailers to ask for quotations and bundle prices.
You need to know the measures of your roof before searching for quotations.
Ask the retailers for the warranty length of the architectural shingles. Most architectural shingles have 25 to 50 years of warranty.
When Buying
There are very popular colors of architectural shingles, including gray, blue, brown, red, and slate.
Architectural shingles are heavier than other shingles, 50% heavier, which is important to know during the installation.
After Buying
As architectural shingles have great durability and a long-lasting lifespan, they shouldn't be damaged by weather conditions unless they are extreme. If your architectural shingles start to spear worn out before the stipulated time, contact your supplier to apply for the warranty.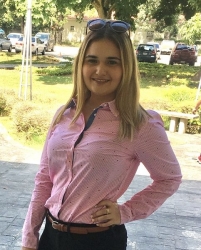 Latest posts by Giovanna Soto
(see all)