$

Small crack/chip repair: $30 - $150

$

$

Professional replacement: $100 - $400

$

$

$

Rare vehicle's windshield replacement: $500 - $1,500+
Having good visibility is essential for a safe drive, and having a windshield in good conditions is crucial.
Also, windshields are considered "safety devices" for vehicles because they assume two important roles: they help support the structure of the vehicle and allow the proper deployment of airbags.
Overall, there's no need to say that driving a vehicle with a cracked or broken windshield is a risk because it can cause serious collisions that could harm not only yourself but other passengers and even outsiders.
So there are more than enough reasons to head to a mechanic if your windshield has suffered any type of damage.
What Can Provoke Windshield Damage?
Modern windshields are perfect crystal-clear glasses made from laminated safety glass (two sheets of glass with a plastic layer laminated in between), and every chip or crack in them is considered windshield damage.
Windshield damage can be caused by many things, like flying gravel, debris that comes from the road, driving in extreme weather conditions, or also provoked by another car.
Windshield damage is classified by professional auto glass technicians on these categories:
Cracks: stress cracks, edge cracks, floater crack, or crack chip.
Chips.
Bulls-eye.
Stars.
Combination.
You can read more about these categories and why they are classified like this in this article made by CarWise.
When It's Time To Replace A Cracked Windshield?
There are many cases when the need for a windshield replacement is obvious, like when a rock hits it, and a simple crack turns into a "spider web," or when it broke after a collision.
But there are other cases that aren't that obvious but need an immediate replacement; according to Glass.com, you should replace your windshield if:
The glass is tempered, not laminated.
The crack is longer than a dollar bill.
The crack or chip is deep (more than halfway deep into the windshield).
The crack or chip extends to the outside edge of the windshield.
Is It Better To Repair Or Replace My Windshield?
A non-written rule says that if the crack is smaller than a dollar bill, it can be repaired, but there are some cases where this is not possible, so it's better to consult an auto glass repair professional that provides you with the best solution.
Repairing a cracked windshield is usually cheaper than replacing it, but the costs of repairing and replacing a windshield can vary depending on many factors.
Costs for repairing a windshield will vary depending on the type of damage it has, the size and depth, the location, and the number of chips or cracks that need to be repaired.
The costs for repairing a crack on a windshield can go from $30 to $150.
If small problems are not addressed in time, they could worsen and ultimately make them impossible to repair, leaving you with the replacement option.
Costs for replacing a windshield will vary depending on the make, model, and year of your vehicle, the type of windshield it needs and its quality, if you need the windshield wipers, and if you want an aftermarket or OEM glass.
Getting the windshield replaced by a professional typically costs from $100 to $400.
For luxury or rare vehicles, windshields usually are only available through a dealer, making prices higher, from $500 to $1,500 or more.
Top Companies
You can get your windshield repaired or replaced at auto glass specialized shops like Safelite, Glass Doctor, Glass America, Rydell Auto Body and Glass, and Anthony Volk Auto Glass.
Jalopnik made a thorough investigation about Safelite, some of the services they offer, and how much they charge:
| | | | |
| --- | --- | --- | --- |
| Safelite Service | 2015 Honda Civic | 2018 Audi A6 | 2019 Ford F-150 |
| Repair 1 chip | $129.99 | $129.99 | $129.99 |
| Repair 2 chips | $159.98 | $159.98 | $159.98 |
| Repair 3 chips | $184.97 | $184.97 | $184.97 |
| Replace standard front windshield | $409.99 | $489.99 | N/A |
Things To Consider
Before Buying
First, if you notice a crack or chip on your windshield, then it's time to go to an auto glass expert to tell you which is the best solution for it. Don't wait for "spider webs" to appear.
Check the different auto glass shops near you to know about their services and prices, but the most important thing about them is that they use products approved by Federal Motor Vehicle Safety Standards (FMVSS).
Auto glass shops should also include a warranty for the windshield covering cracks, leaks, or other installation problems for one or two years.
Check if your insurance company covers your windshield damage. Some auto insurances cover the full windshield repair with no deductible, but others cover it with a $100-$300 deductible.
When Buying
The auto glass professional needs to analyze the damage before saying if it can be repaired or needs replacement.
Replacing a windshield is a job that usually takes about an hour
Some vehicles with special features may require special rubber moldings, which can cost $5 to $25.
You could lower costs by using DIY methods and an adhesive kit. But you need to be aware that the quality of the installation will totally depend on you, and a low-quality installation could lead to leaks from the windshield, and ultimately, need a professional replacement.
After Buying
Usually, the windshield wipers have to be replaced too if they are attached to the windshield. Windshield wipers can cost up to $40 the pair for a standard vehicle.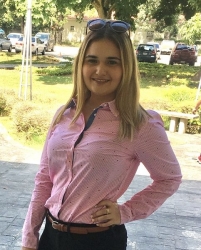 Latest posts by Giovanna Soto
(see all)