$

DIY Window Tinting: $10 - $130 (just tint films)

$

$

Professional Car Window Tinting: $50 - $600+

$

$

$

Professional SUV Window Tinting: $200 - $800+
For car owners who live in states with warm weather almost all year round, window tinting is necessary, but in reality, they do much more than keeping your car cooler in sunny weather.
Window tinting is the process of applying to the glass of the vehicle a thin film to make it darker; its main goal is to reduce the Visible Light Transference (VLT), which is the light that passes through the glass.
Depending on the law, window tints can be applied to the windshield, front side windows and wings, rear side windows and wings, and the back window.
And there are many benefits for installing window tints; some of them are:
Having a protective shield against UV rays.
Giving your car more privacy.
Reducing glare.
Reducing the heat inside the car.
Preserving the interior of the car.
Reducing the risk of theft.
Holding shards of glass when it breaks in an accident.
Improving the comfort of the vehicle.
Making it look more attractive.
How Long Does Window Tint Last?
There is not an exact estimation of how long window tint can last.
This can be from one year to ten or more, but all depends on these three major factors:
The quality of the product.
If the installation was made by a professional or it was a DIY.
How you take care of the window tint.
You can read in more detail about these factors that affect the lifespan of window tints in this article made by Aptinting.
Is Window Tinting Legal?
If you want to tint your windows, this choice will mostly depend on the state you are located in and its laws.
Window tints come in different degrees of visible light transmission (VLT%), and each state has its own law related to what degree of tint is legal to install in your vehicle.
There are some states that allow you to tint every window, while other states don't allow tinting the windshield, like Minnesota and New Jersey.
Check out this article made by Instamotor that explains in detail the window tinting laws in all 50 states.
If you install a film that doesn't follow your state laws and has a VLT% lower than it should, you are at risk of getting pulled over and penalized with a fine of $100 up to $1,000 or more (depending on the state), and they will require you remove it or replace it.
What Facts Affect The Costs Of Window Tinting?
There are many facts to consider when deciding the get your windows darker, as they can affect the final costs; these facts include: the state where you are located, the quality of the tint you buy, the type of tint you want to install, the year, make and model of your vehicle, and how many windows you want to darken.
This article made by Ravinyl explains in detail the five main types of window tint there exist, which are:
Dyed Tint
Metalized Tint
Hybrid Tint
Carbon Tint
Ceramic Tint
Professional window tinting on a car using a standard and non-reflective tint film can cost from $50 to $600 or more; using a more specialized tinting film like ceramic or carbon can cost from $100 to $800 or more.
For the professional window tinting on a SUV or minivan, prices can go from $200 to $800 or more; to tint the windows of a pick-up, prices are lower, and they can go from $50 to $500 or more.
There's also the option to buy the tint film and install it yourself on the vehicle; for a DIY window tinting, you just need to buy rolls of tinting film, which can cost $10 to $25 for a 6′ long roll or a kit of precut film that fits the windows of a specific vehicle, which can cost $25 to $130.
Then, after buying the tint film, you can install it yourself; here's a detailed video made by O'Reilly Auto Parts that shows you how to do it.
Top Companies
You can get your vehicle's windows tinted at auto body shops like Midas and Meineke, and auto detailing companies or companies specializing in window tinting like Tint World.
Also, you should check out The International Window Film Association website, where you can search for dealers that specialize in window tinting.
Things to Consider
Before Buying:
First, if you are thinking of tinting your windows, check with the laws within your state to see the type of tint you can use and what's permitted.
After checking your state laws, you must decide on a window tint percentage for your car. Think about why you want to tint your windows to get the best match for you.
Check out the different dealers and auto body shops that offer tint films and the complete tinting service to know price differences and what type of warranties they offer.
If you have an existing tint film on your windows, this will have to be removed before installing the new one, which can cost $25 to $200 or more.
When Buying: 
When getting a professional window tinting job, this process typically includes removing old tint film (if it has), cleaning the windows, cutting the film to precisely match the car's windows, installing the films, and making sure they have a perfect finish. Here's a video made by Car Insider that shows you how windows are tinted.
Tinting your windows can be done in a day, more exactly from two to four hours, and it depends on the type of your vehicle, how many glasses you are covering, and if there is a removing film service before.
After Buying:
After having your windows tinted, you should consider a few things to care for them. This is called the "curing process," which is the time the tint takes to dry. You should wait at least three to four days before rolling down the windows. If you live in a place with high humidity or cold wheatear, then the time the windows need to dry can be extended.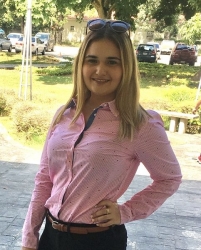 Latest posts by Giovanna Soto
(see all)