$

Basic Tune-Up: $40 - $150+

$

$

Standard Tune-Up: $200 - $800+

$

$

$

High Mileage Tune-Up: $500 - $1,200
Having a car is great, but owning one means you need to be responsible for it and perform the necessary maintenance service to keep it in good condition, which is a responsibility many people don't want.
One of the things car owners need to be aware of is the yearly car tune-up; this is a preventive maintenance service that checks and replaces worn parts of your vehicle and ensures everything performs as it should, extending the vehicle's life.
Regardless of the brand or year of your vehicle, having regular tune-up services can save you from future headaches, and it's a safety measure that can even protect you from future accidents.
Experts recommend you should have a regular tune-up each year, but this usually entails just minor turn-ups, while major turn-ups are often performed depending on de milage of your vehicle; this article explains the difference between minor and major turn-ups.
But, some manufacturers say that a car tune-up should be performed depending on the car mileage usage, and they shouldn't be performed as often; according to them, newer cars should be checked every 30,000 or 50,000 miles, and some even recommend it a 100,000-mile interval.
And, you have to be conscious of that if you don't perform regular tune-ups or the recommended by your vehicle's manufacturer, it can result in decreased performance and other problems you won't want to deal with; read about the signs of your car needing a tune-up in this article made by Meineke.
What Does a Tune-Up Include?
This service varies depending on the vehicle make and model, its age, and the mileage; depending on all of these factors and what your car needs, a tune-up can include: replacing the fuel filter, installing new spark plugs and wires, checking filters, and fluids, checking the timing belt or timing chain, the battery, and others.
Some of them are unnecessary, but after checking your vehicle thoroughly, the parts worn by time and usage will be changed and replaced.
The final price will depend on labor costs, location, the parts that need to be replaced, and the type of vehicle you have.
A basic tune-up can cost $50 to $150, which generally includes new spark plugs and inspecting the spark plug wires; while more standard tune-ups can cost $200 to $800 or more, which usually includes oil change, new filters, wires, distributor cap, rotor, fuel filter, PVC valve, air filter, and other services.
If you have an older vehicle that can get your tune-up price a little higher, vehicles with high mileage (100,000 or 120,000 miles) need to have a more thorough tune-up performed, which can cost $500 to $1,200 depending on the services involved.
Top Retailers and Companies
You can usually have a car tune-up at local mechanics, auto repair shops, and dealerships (although dealerships are the most expensive); Firestone, Jiffy Lube, Midas, and Pep Boys are known to perform this service.
They all perform basic and more thorough tune-ups, but prices can vary a lot depending on the factors mentioned above; a major cost changer is the number of services your car needs.
Here's a comparison of some services and price ranges, and the recommended miles to perform them:
| | | |
| --- | --- | --- |
| Service | Suggested Miles | Price Range |
| Air Filter Change | Every 10,000 miles | $15 to $30 |
| Oil Change | Every 5,000 miles | $25 to $65 |
| Wheel Alignment | Every 10,000 miles | $50 to $125 |
| Distributor Cap | Every 50,000 miles or so | $50 to $125 |
| Fuel Filter | 30,000 – 50,000 miles, or every two years | $50 to $100 |
| PCV Valve | Every 30,000 to 40,000 miles | $25 to $65 |
| Rotors | Every 40,000 to 60,000 miles | $250 to $350 |
| Spark Plugs | 50,000 to 75,000 miles | $100 to $200 |
| Transmission Flush | Every 50,000 miles or two years | $150 to $250 |
| Air/Oxygen Sensor | 100,000 miles | $100 to $250 |
| Spark Plug Wires | Every 75,000 miles | $125 to $250 |
| Timing Belt | 100,000 miles | $200 to $800 |
Things to Consider
Before Buying:
First, check the owner's manual of your vehicle to know what maintenance services are needed and when. Don't let your car show wear signs to get service. Remember, this is a preventive measure.
Check the auto shops that perform this service and ask for a detailed explanation of what is included in the tune-up because it varies significantly.
If you are on a budget, you can always save some money by doing minor tune-ups by yourself. Here's a video made by AutoZone that shows you how to perform a simpler tune-up yourself.
When Buying: 
When you are at the auto shop, they will run a diagnostic test on your vehicle to see how things are going and how it is performing.
If there are parts that need a replacement, that would be done after checking everything on your vehicle.
Depending on what your car needs, a tune-up service typically takes about two to four hours.
After Buying:
Check your car owner's manual and schedule your appointment for your next tune-up, that way, you won't be surprised when it comes, and you will make sure your car is in its best condition.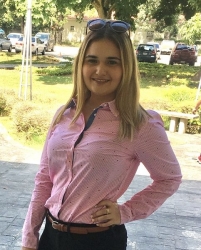 Latest posts by Giovanna Soto
(see all)