$

2-8 Oz Tube: $1-$6

$

$

Set of 6-24 Acrylic Tubes: $10-$70
Acrylic paint is a type of paint that's mainly known for being accessible, high-quality, and fast-drying which typically takes 30 minutes.
This type of paint can be used on many surfaces and always expect a nice finish, and if it's mixed with additives the more it can stay in the surfaces.
Typically, beginners get acrylic paints in the form of sets, which can also include brushers, but professionals typically buy the tubes and colors separately.
Then, on the market people will find two grades or types of acrylic paints: the artist and student quality.
The artist quality is referred to as the professional acrylic paint which has a better finish and a higher pigment concentration with a very high permanence rating.
And, student-grade acrylic paint is often cheaper, and it will be diluted with fillers that make the color not as pigmented as professional acrylic paint; there is also a limited range of colors in comparison to professional acrylic paints.
What Are The Components Of Acrylic Paint?
According to Liquitex.com, acrylic paint is a water-based paint composed of pigment particles dispersed in an acrylic polymer emulsion, and it's made up of three main components:
Pigment (gives the paint its color).
Binder (keeps pigment in place after the paint dries).
Vehicle (the part of the paint that carries the pigment and the binder).
What Are The Pros And Cons Of Acrylic Paint?
According to Artncraftwarehouse.com.au, the Pros and Cons of acrylic paint are:
The Pros
It's versatile.
It dries quickly.
It's water-soluble.
It's less toxic and safer around children and pets.
It's more affordable.
It's flexible.
It's durable.
It's vibrant.
It's water-resistant when dry.
The Cons
Its color becomes darker when dry.
It's fast-drying, meaning you need to work quickly.
It's hard to remove from brushes, nails, or clothing once dried.
It's hard to remove from nails or clothing once dried.
It's considered by some art galleries and collectors as 'not as valuable' when compared with other paint mediums.
What Affects The Price Of Acrylic Paint?
The final price of acrylic paint will depend on many factors like the quantity of paint you need, the amount of paint that is included in a set, the brand of the paint, the colors included in the set or sold individually, and the retailer where you purchase it from.
Typically, a two to eight ounces tube of acrylic paint will cost from $1 to $6.
A set of 6 to 24 colors of paint containing 12ml to 90ml of paint per tube will cost $10 to $70.  
By the gallon, it can cost about $25 to $45.
Top Companies
You can buy acrylic paint in many national craft stores like Michael's Craft Stores or Joannes, or also local specialized painting stores; there are also many online retailers that sell acrylic paint like Amazon.
Other big-name stores that also sell acrylic paints are Walmart, Kmart, and Lowes.
My Modern Met made an article reviewing and listing the 14 best acrylic paint sets that both beginners and professional artists will love.
Things to consider
Before Buying
First, you need to think of the type of acrylic paint that's best for you. If you are a professional painter or have experience with paints then professional quality acrylic paints are the best option for you, but if you are a beginner then the student rate acrylic paints will be the best option to start in the painting world.
Consider the quality, the color, viscosity, tube, drying time and the brand before going shopping for acrylic paints.
Buying a set will be much cheaper than buying individual tubes, but this will be only useful if you are a beginner and don't have preowned paints.
For professional painters that use many painting tubes, buying a gallon will be much cheaper than buying individual tubes.
When Buying
Heavy body acrylics that have a pastier-like consistency can be applied to fabrics as they last longer on other surfaces; however, they tend to get stiff as you add layers.
After Buying
If the set doesn't include one of the colors you need, you may need to purchase the individual tube of color.
There are many painting accessories that painters will need that don't come included with the acrylic paint unless they come in a bundle or set. Some of them include palettes, which cost around $4, brushes and an easel.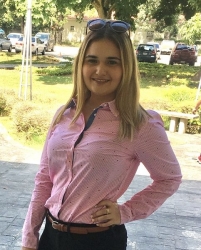 Latest posts by Giovanna Soto
(see all)