$

$

Standard Adjustable Beds: $750-$3,500+

$

$

$

Hospital-like Adjustable Beds: $2,700-$5,800
An adjustable bed is a type of bed that lets the user change its position to achieve a level of comfort according to many different reasons.
This type of bed can be put into a number of different positions that will help the user sleep better by inclining the upper body or raising the lower body independently.
Typically they are seen and used in hospitals to make patients comfortable depending on their hospitalization reason, but they can also be found and used in regular homes.
How Do Adjustable Beds Work?
According to Casper.com, adjustable beds have two sections that participate in the mechanics of the bed to make it work: the base and the sleeping structure.
The base is a sedentary structure that holds up the rest of the bed frame, and the sleeping structure is connected to the bed base via a series of electronic joints.
These joints specifically are connected to the wireless remote that comes with the bed, and they respond wirelessly to any command made from it, allowing sleepers and general public to move and control different parts of the sleeping surface to create a desirable position.
What Are The Pros And Cons Of An Adjustable Bed?
According to Blue Sky Healthcare, the pros and cons of an adjustable bed are the following:
Pros
It provides a higher level of blood circulation at night.
It helps to relieve the typical aches and pains that come with life.
It can relieve the symptoms of asthma.
Acid reflux can be effectively treated.
They allow for a greater level of independence.
Massage Options in form of Vibrations
They come in a wide variety of sizes.
It doesn't prevent other bed-related fun.
Cons
Adjustable beds are expensive.
The higher maintenance costs in comparison with standard beds.
They can be loud.
They are very heavy to move.
They have a unique size, which means they require unique sheets.
They provide difficulty in movement.
Adjustable beds can be difficult to clean.
All of the physical benefits that are promoted may not be experienced.
What Affects The Final Price Of An Adjustable Bed?
There are many factors to consider when buying an adjustable bed that will determine the final purchase price, like the size, the brand, the material, the quality, the warranty, the store your purchase it from, and where you are located.
Adjustable beds typically cost between $750 to $3,500, but they can cost more, up to $5,000, depending on the factors mentioned before.
Adjustable beds used in the medical industry typically are more expensive than their home counterpart due to added advanced features for patients they have; adjustable beds that are similar to the hospitals can cost from $2,700 to $5,800.
The following example shows the prices of the adjustable beds of Yaasa, a brand of adjustable beds, based on size:
| | |
| --- | --- |
| Adjustable Bed Size | Price |
| Twin XL | $1,499 |
| Queen | $1,699 |
| King | $1,999 |
| Split King | $2,699 |
Top Companies
There are many different brands that manufacture adjustable beds, such as Craftmatic, Leggett and Platt, Sealy, Simmons, and Tempur-Pedic.
The following comparison shows the price difference between the adjustable beds offered by different stores and brands:
| | |
| --- | --- |
| Brand | Price Range |
| Amerisleep | $1,600 to $3,500+ |
| Costco | $1,300 to $5,000+ |
| Craftmatic | $1,500 to $2,500+ |
| Reverie | $1,000 to $3,000 |
| Serta | $750 to $5,000+ |
| Sleep Number | $3,000+ |
| Tempurpedic | $1,400 to $6,000+ |
The Sleep Foundation has made a list of the best adjustable beds of 2022.
Things to consider
Before Buying
It's important to first determine if a regular bed doesn't meet your sleeping needs, which will lead you to buy an adjustable bed.
Start research to know the different types and brands of adjustable beds there are and which one is the best for you and meets your needs and budget.
There are many online discounts and offers when it's about buying an adjustable bed, but keep in mind that the weight of the product is a key factor in the shipping, and typically adjustable beds purchased online have additional shipping fees unless they are included. Shipping fees can start at $100.
Ask for the adjustable bed warranty. Some manufacturers can offer a lifetime warranty.
When Buying
It's important to know that adjustable beds need a special frame that can adjust and move with them into different positions.
After Buying
Adjustable beds are complex to set up, that's why many owners need to call a specialist to set them up.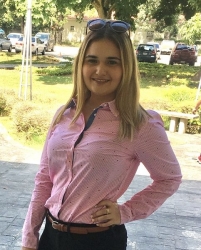 Latest posts by Giovanna Soto
(see all)