$

Driver-side Airbag: $200 - $700+

$

$

Passenger-side Airbag: $400 - $1,000+

$

$

$

Professional Replacement: $1,000 - $6,000+
Some people have been lucky enough not to have seen an airbag in their lives, but those who saw them know the importance airbags have in car accidents.
Working with the seatbelt as part of a vehicle's security system when accidents occur, airbags are air units that inflate rapidly and deploy the moment the vehicle crashes.
Airbags keep you from hitting your car directly, but thankfully they don't come out with every accident, as a sensor measures the level of the crash, and if it's severe enough, then the hidden airbags will pop out; here's a video that shows how airbags work.
There is no doubt that airbags help save lives, but there are some risks attached to them; read about the benefits and risks of airbags in this article.
Nowadays, there are many more airbags than ten years ago, but the most common is the frontal airbag; here's an article that discusses all types of airbags.
Are All Cars Equipped With Airbags?
Nowadays exist many more airbags than ten years ago, but the most common is the frontal airbag; here's an article that talks in detail about all types of airbags.
Most modern cars have a front airbag on the driver's side and one on the passenger's side; some can also include side-curtain or knee-level airbags, which are just different locations of the same front airbag.
The thing with them is that they cannot be re-used, and they have to be replaced after every use and with certified replacements made by the original equipment manufacturer.
What Will Affect The Final Costs Of Replacing Airbags?
Depending on the vehicle's year, make, and model, the type of airbags it uses, the number of airbags you need to replace, labor, and the possible damaged parts that need to be replaced (like sensors), prices will vary.
Just buying the replacement for the driver-side airbag can cost from $200 to $700 or more, and for the passenger-side airbag, it can cost from $400 to $1,000 or more.
The prices of the side curtain airbag and knee side airbags are similar; side curtain airbags can cost from $200 to $700, and knee side airbags can cost from $400 to $1,000.
And, for the professional replacement of the airbags deployed in a car crash, prices will be higher; professional replacement of deployed airbags can cost from $1,000 to $6,000 or more.
Top Companies
You can get airbag replacements and professional airbags installation at car dealerships, auto repair shops, auto body shops, and specialty shops like AirBagService.
MyAirBags and AirBagCenter.com are known online retailers that sell airbags and other components, but usually with a limited warranty; then, you'll have to find a place where a professional mechanic install will them.
Things to Consider
Before Buying:
First, you should check with your insurance. They typically cover airbag replacement costs and other components like sensors once a deductible is made. But you have to know that they might prefer to "total" the vehicle after the airbags have been deployed.
If your insurance doesn't cover the airbags, then you should start looking at places near you that provide replacement services. Also, check with online retailers, as buying airbags online is cheaper.
Make sure to provide the year, make, and model of your vehicle to buy the airbags that perfectly match it.
When Buying: 
A professional mechanic or technician should be in charge of replacing the airbag because accidental deployment can occur if they are not well installed. Here's a video from 1A Auto Repair that shows how to install a driver's airbag.
The airbags replacement service will take up to two hours, depending on the number of airbags to replace and other components.
Labor costs will depend on the location, rates, and make and model of your vehicle.
Some components may need replacement also after airbags deployment. These repairs can cost $80 to $120 to repair and replace.
After Buying:
According to the NHTSA, installing an on-off switch to disable a front driver- or a passenger-side airbag is permitted in the following cases: children under age 13 and individuals who are at risk of airbag injuries due to a medical condition.
Remember, it's not recommended nor safe to drive a car without airbags because if a collision occurs, your body will not be protected from the impact, and the passengers will be at risk also.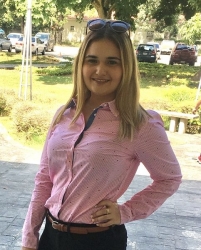 Latest posts by Giovanna Soto
(see all)