$

Economy Average Price: $65 per day.

$

$

SUVs Average Price: $166 per day.

$

$

$

Trucks Average Price: $120 per day.
Renting a car is a fundamental part of any vacation, and it can enhance the experience or make it a nightmare, depending on the case.
Choosing the best vehicle to rent when abroad is not easy, and depending on your intention, budget, and many other factors, prices vary a lot.
In fact, it's important to keep in mind that since 2019, prices have increased about 76% in 2021, according to Car And Driver, making it essential to know more about the factors that increase or decrease the costs of renting a vehicle.
What Type Of Vehicles Can Be Rented?
According to famous Rent-A-Car company Enterprise, rental vehicles are classified by size and class into five main categories:
Economy.
SUVs.
Trucks.
Vans.
Luxury Cars.
What Affects The Final Price For Renting A Vehicle?
The costs for renting a car will depend on many factors; according to Next Advisor, they include:
Vehicle size: economy cars will be much cheaper than trucks. But the capacity also plays an important role here, as economy cars don't have a large capacity for bags and people. So deciding which size of vehicle get will have to do with the budget and quantity of people using it.
Make, model, and special features: Luxury cars are more expensive than common brands, meaning that renting a Cadillac will be much more expensive than renting a Toyota Corolla.
Location: From city to city, and from country to country, base rates for renting a vehicle vary; prices can even vary inside each city, as renting in the airport is usually more expensive than other parts of the city, unless it is a popular area.
Fees: Each car rental agency has its own fees, like security fees or recovery fees. Everything will depend on the agency where you are renting.
Taxes: Depending on the state you are renting a vehicle, taxes will vary. Some places have tourism taxes or highway use taxes levied by local or state laws.
Insurance: Some companies offer the insurance inside their final price, while others charge them as an obligatory add-on. There are many insurance options, but what's important to know is that you can't drive a rented car without insurance.
Driver's age: Usually, above 25 years old, there aren't any issues with renting a vehicle, but drivers with less age do encounter some problems. Many agencies have restrictions for drivers ages 21 to 24, as they are 'risk drivers.' And usually, car rental companies don't rent cars to people under 18 or even 20 years old.
Additional drivers: All rent-a-car companies have the option of adding an additional driver to the contract, but some of them charge a fee for it, while some others don't.
Extras: Agencies will always offer extras or add-ons after choosing a vehicle, which may include a child safety seat, fuel refill waiver, GPS, roadside assistance, a road toll plan, and others.
Prices can also vary from day to day, as usually renting a car on the weekend is more expensive than renting the rest of the week.
What's The Average Cost For Renting A Vehicle?
Costs estimations vary a lot, but the best way to get the most accurate is to use an online travel website.
According to Consumer Web Watch, the website with the lowest car rental rates is Orbitz.com, but there are other options where you can find good deals, such as Happy Tours Usa, Travelocity, Expedia, and Kayak.
Instead of using online travel websites, you can always check the Rent-A-Car main website.
The following comparison shows examples of prices for renting a car with different companies/websites at different locations and different vehicle options:
Company
Location
Type of Vehicle and Starting Price per day
Economy
SUVs
Vans
Trucks
Luxury
Enterprise
Miami International Airport
$53
$58
$85
$96
$80
Miami Beach
$50
$64
$90
$68
$68
Houston George Bush Intercontinental Airport
$66
$72
$150
$72
$110
Houston Downtown
$97
$158
$165
$189
$180
Kayak
Miami International Airport
$56
$81
$115
$109
$121
Miami Beach
$53
$49
$75
$83
$102
Houston George Bush Intercontinental Airport
$113
$104
$139
$139
$137
Houston Downtown
$63
$80
$128
$139
$75
Things To Consider
Before Buying
First, check travel websites before visiting the car rental website or physically. Renting a car online is much cheaper than renting it physically from the agency. Also, some online websites specialize in travel and tourism and have partnerships with rent-a-car centers, like Happytoursusa.com, Orbitz, Kayak, and Expedia.
When Buying
Drivers under 25 years old could have some restrictions depending on the company and the location.
Having insurance is necessary. Some credit card companies cover car rental insurance fees, so you don't have to pay them.
After Buying
After renting a car, the agency will always offer some extras like Child Seats, GPS/Navigational Systems, and others.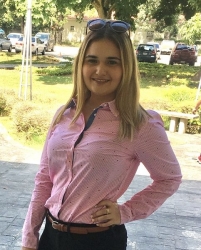 Latest posts by Giovanna Soto
(see all)