$

Used Class B RV: $10,000-$15,000+

$

$

Standard Class B RV: $40,000-$80,000+

$

$

$

Luxury Class B RV: Up to $125,000+
One of the easiest ways to make road trips in the states is to use a Class B Motorhome, better known as Camper Van.
These minivans are perfect for adventurers, and although they aren't near Class A Motorhomes in terms of luxury, they can be more convenient.
Camper vans are smaller than the regular big-size motorhome, so they are very popular because they are still comfortable for road trips and perfect to park anywhere, taking many of the downsides of motorhomes away.
What Affects The Price Of A Class B Motorhome?
Class B Motorhomes usually look like a camper van with the inside adapted for recreational purposes in many different ways.
So depending on the type of amenities it has, the size, the manufacturer, roof extension, the year, and if it's old or new, the price of a camper van can vary.
A new standard Class B Motorhome can cost from $40,000 to $80,000; more luxurious or options or with more amenities can cost up to $125,000 or more.
A more affordable and popular option is to buy a used camper van; after buying, motorhomes start to depreciate, and you can find Class B RVs just a few years old for 20 to 30% less than the original price.
Prices of used Class B Motorhomes range can range from $10,000 to $15,000.
Top Companies
Some of the best motorhome manufacturers are Thor Motor Coach, Keystone, Jayco, but the majority of motorhome brands prefer to focus more on Class A Motorhomes than other types.
You can also look for dealers who usually have more options to choose from regarding camper vans; they tend to be more expensive than the manufacturers, but you can always negotiate with them.
The following comparison shows price examples for different models of Class B Motorhomes:
| | |
| --- | --- |
| Model | Cost |
| 1. Vandoit Adventure Vans LIV | $76,900 |
| 2. Winnebago Solis Pocket 36A | $80,000 |
| 3. Coachmen Cross Trek 21XG | $83,000 |
| 4. Thor Motor Coach Compass 23TW | $90,000 |
| 5. Pleasure-Way Tofino | $90,500 |
| 6. Thor Motor Coach Sequence 20L | $94,000 |
| 7. Winnebago Solis 59PX | $94,000 |
| 8. ModVans CV1 | $95,764 |
| 9. Jayco Swift 20T | $102,000 |
| 10. Thor Motor Coach Tellaro 20AT | $107,000 |
| 11. Roadtrek Zion Slumber | $140,000 |
| 12. Winnebago Navion 24V | $150,000 |
| 13. Coachmen Galleria 24Q | $155,000 |
| 14. Winnebago EKKO 22A | $165,000 |
| 15. Leisure Travel Vans Unity | $170,000 |
| 16. Winnebago Boldt 70BL | $180,000 |
| 17. Winnebago Revel 44E | $190,000 |
| 18. Airstream Atlas 24MS | $245,000 |
This article made by RVOwnerHQ.com has more details about these examples of Class B Motorhomes.
Things To Consider
Before Buying
First, set up a budget and look for the different manufacturers or dealers that sell camper vans to look at the options and different prices they offer.
If you are thinking of buying a used Class B RV, NadaGuides.com provides a great tool for price estimation. You can also get an inspecting checklist at com for inspecting a motorhome before buying it.
When Buying
Typically, an average camper van includes a food prep space, a sitting/dining area, and a space to sleep (a bed). And they are comfortable for two people, perfect for couples.
As these types of RVs are very compact, they can usually fit in standard garages or parking spots.
Keep in mind that many Class B Motorhomes come with a space known as a "wet bath," where the shower and toilet are combined.
After Buying
After buying a Class B RV, the next thing to do is buy RV insurance. These types of RVs are hard to insure, but some providers like Roamily help RV owners insure their RV, including tips on how to insure Class B RVs.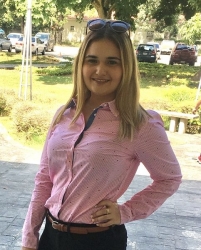 Latest posts by Giovanna Soto
(see all)