$

Truck Camper: $3,000-$50,000+

$

$

Fifth-Wheel RV: $35,000-$120,000+

$

$

$

Class A Motorhome: $50,000-$800,000+
The term RV stands for 'recreational vehicle,' which can be a motorized vehicle or a trailer or towable vehicle without a motor.
The popularity of these RVs has increased over the years; adventurers really took advantage of RVs nowadays, and living full time in one while traveling the country is an actual living plan for many.
Whether you only want to use an RV for a small road trip with the family or to live the ultimate adventurer and pack your belongings to travel the country on it, they can provide an amazing and comfortable experience and adapt to your needs.
How Are RVs Classified?
According to KAO, RVs can be classified into two major categories: motorized RVs and towable RVs.
Motorized RVs can be classified into three major groups:
The Class A Motorhome.
The Class B Motorhomes or Camper Van.
The Class C Motorhomes or Mini-RVs. This one can be subclassified into Class Super C, a more luxurious one, similar to Class A RVs.
And towable RVs can be classified into these categories:
Fifth-wheel RVs.
Tent trailers or Pop-ups.
Sport utility RVs or Toy Haulers.
Travel Trailers.
Truck Campers.
This video made by RVersity explains the difference between all types of RVs.
What Affects Replacement Costs Of A Starter Motor?
Typically, RVs include basic amenities like a kitchen, a bathroom, and one or more sleeping facilities.
The price of an RV can change depending on many different factors like the size, the year, the model, where you buy it, if the RV is new or used, add-ons or accessories, flooring, and more.
But, considering all of the determining factors, the type of RV you want to buy is the most important out of all of them to consider.
| | | |
| --- | --- | --- |
| RV Type | New (Standard) | Luxury/Customized |
| Class A Motorhome | $50,000-$200,000 | Up to $800,000+ |
| Class B Motorhome | $40,000-$80,000 | Up to $125,000+ |
| Class C Motorhome | $50,000-$80,000 | Up to $140,000+ |
| Fifth-Wheel RV | $35,000-$60,000 | Up to $120,000+ |
| Travel Trailer | $15,000-$35,000 | Up to $60,000+ |
| Truck Camper | $3,000-$40,000 | Up to $50,000+ |
| Tent Trailer | $3,000-$20,000 | Up to +35,000+ |
| Toy Hauler | $12,000-$60,000 | Up to $80,000+ |
A more affordable and popular option is to buy a used motorhome; after buying, motorhomes start to depreciate, and you can find any type of motorhome, RV, or trailer just a few years old for 20 to 30% less than its original price.
Top Companies
There are many different motorhomes and RVs manufacturers, and prices vary from one to another; some are Starcraft, Heartland, K-Z RV, Thor Motor Coach, Keystone, Jayco.
There are dealers that work with many types of motorhomes and RVs, offering many different types of brands you can choose from.
The downside of using a dealer is that they tend to charge at least 20% more than the original manufacturer's price, but they are always open to negotiation.
You can find local dealers through the National Recreational Vehicle Dealers Association or using the GoRVing.com website, which provides a nationwide search for dealers.
For used RVs, NadaGuides.com provides a powerful tool that provides price estimation for used motorhomes and RVs.
The following comparison from Camper Report shows price examples of different RV models:
| | |
| --- | --- |
| RV Model | Price |
| Forest River Inc. Berkshire XLT Diesel 45A (Class A Motorhome) | $280,000+ |
| Coachmen Leprechaun 240FS (450 Ford) (Class C Motorhome) | $68,000+ |
| Dutchmen Astoria 2513RLF (Fifth-Wheel) | $50,000+ |
| Keystone Passport Express 239ML | $18,000+ |
| 2019 Jayco Embark 37MB (Class A Motorhome) | $295,000+ |
| Thor Motor Coach Compass 24LP (Class B Motorhome) | $114,000+ |
| 2015 Palomino PaloMini 177BH (Travel Trailer) | $10,000+ |
| Winnebago Cambria 27K (Class C Motorhome) | $129,000+ |
| Northwood Arctic Fox 28-5C (Fifth-Wheel) | $42,000+ |
| Thor Motor Coach Outlaw 29J (Class C Toy Hauler) | $123,000+ |
| Jayco Jay Sport 10SD (Camper Trailer) | $13,000+ |
| 2017 K-Z RV Connect C191RBT (Travel Trailer) | $20,000+ |
| Thor Motor Coach Hurricane 35M (Class A Motorhome) | $144,000+ |
| Prime Time RV LaCrosse 339BHD (Travel Trailer) | $46,000+ |
| Thor Motor Coach Tuscany 45AT (Class A Diesel Motorhome) | $429,000+ |
Things To Consider
Before Buying
First, check the different types of motorhomes and RV that exist to decide which is the one that fits better with your needs.
Check for the average price of the RV model you want and start looking for dealers or manufacturers.
You have to consider the sleeping capacity of each RV model before choosing the one that's right for you.
If you are buying a used RV, you can get an inspecting checklist at Changingears.com for inspecting a motorhome before buying it, and NadaGuides.com to check the prices of used RVs.
When Buying
For some larger motorhomes, like Class A RV, some states require a specific license to drive it.
Towable RVs will require a specific vehicle to tow them, with enough weight capacity to support them and a hitch.
If the towable RV is wider than the towing vehicle, you'll be required by law to add extra mirrors.
After Buying
RVs' registration fees vary by state, but costs can range from $50 to $400 a year.
RV parks can charge a fee of $10 to $50 per night to park the RV, depending on the location and the amenities provided.
After buying an RV, the next most important thing would be RV insurance.
If you need extra storage, renting RV storage space can vary depending on where you want it. Storage space can cost $20 to $100 a month outdoors and $45 to $450 a month if it's indoors.
According to Outdoorsy, consider that you need to keep in check the black water tank, the fresh water tank, and the grey water tank of the RV after buying it.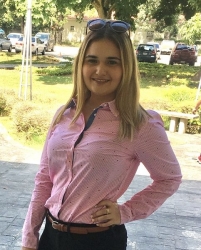 Latest posts by Giovanna Soto
(see all)