$

Used Class C RVs: $35,000-$70,000

$

$

Standard Class C RVs: $50,000-$80,000

$

$

$

Super C models: $140,000+
Known as the smallest of the motorhomes or mini-motorhome, Class C Motorhomes are ready to provide a comfortable traveling experience taking as little space as possible.
Mini-RVs are not nearly as big as Class A motorhomes, but these recreational vehicles stand strong against the giant motorhomes due to their slow prices; but if you consider the super C class, then there's not much to envy to class A RVs.
They are often compared to a cozy studio apartment with wheels so that you can take it everywhere, including inside a sleeping area, bathroom, kitchen, and a convertible sofa.
What's the Difference Between A Class C RV and A Super C RV?
The Class C RVs are compact and easy to pick up and carry around; the front of the RV usually looks like the front end of a pickup truck, and its size range between 19′ and 35′.
The class C motorhome combines a comfortable and complete environment with a small and compact space, taking advantage of Class A motorhomes in that sense.
But the difference between the Class C RVs and the Super C Class is that the Super C is an upgraded class of the mini-RVs.
Super C motorhomes are larger than standard class C RVs, and usually, they have a diesel engine; the front end looks different too, looking more like an 18-wheel truck.
The super C class has much more power than the regular class C due to the diesel engine, so it has a greater towing capacity, making it possible to tow a vehicle behind a super C motorhome.
Class C motorhomes are comfortable and spacious, but super Cs are the luxurious version of them, having a larger storage area, higher quality appliances, an entertainment center, and much more.
This video made by RV Inspection and Care shows the difference between a Class A Motorhome and a Class C Motorhome.
What Affects The Price Of Class C Motorhome?
The cost of a class C RV will vary depending on many different factors like the size, the age of the vehicle, if it's new or used, the manufacturer, flooring, added extras, and model.
A new standard Class C Motorhome can cost from $50,000 to $80,000; more luxurious options or Super C RVs with more amenities and space can cost up to $140,000 or more.
A more affordable and popular option is to buy a used Class C RV; after buying, motorhomes start to depreciate, and you can find Class C RVs just a few years old for 20 to 30% less than the original price.
Used Class C motorhomes' prices can range from $35,000 to $70,000 and up to $150,000 for a Super C RV.
Also, some people prefer to rent a motorhome before buying one; renting a Class C Motorhome can cost from $1,000 to $2,500 for 7 days or a 700-mile trip.
Top Companies
Some of the best motorhome manufacturers are Thor Motor Coach, Keystone, and Jayco, but the majority of motorhome brands focus more on Class A Motorhomes than other types.
You can also look for dealers who usually have more options to choose from regarding mini-RVs; they tend to be more expensive than the manufacturers, but you can always negotiate with them.
RV Blogger gathered information about different price comparisons between new and used models of Class C RVs and Super C models:
New Models
Price
Class C RVs
2019 Coachmen Freelander 21QBC
$49,990
2019 THOR FREEDOM ELITE 22FE
$57,999
2019 Thor Motor Coach Chateau 22E
$66,900
2019 Coachmen Freelander 26RSC
$68,900
2019 Jayco Redhawk 26XD
$71,6900
2019 JAYCO REDHAWK SE 27N
$73,995
2019 Thor Motor Coach Quantum RC25
$86,900
2019 Jayco Greyhawk 31FS
$89,999
2019 Coachmen Freelander 32DSF
$97,799
Super C RVs
2019 Dynamax Corp Isata 5 Series
$140,990
2019 Thor Motor Coach Magnitude
$159,638
2019 NeXus RV Ghost 33DS
$189,900
2019 JAYCO SENECA 37K
$231,791
Used Models
Class C RVs
2008 FOUR WINDS CHATEAU 31P
$36,999
2008 WINNEBAGO VIEW 24H
$43,590
2011 FOUR WINDS CHATEAU 31P
$49,990
2015 THOR CHATEAU 26A
$59,999
2014 Forest River Forester 3051S
$61,388
2014 Coachmen Leprechaun 319DS
$69,987
2008 FOUR WINDS CHATEAU 31P
$36,999
Super C RVs
2012 WINNEBAGO ITASKA 24D
$63,990
2008 GULF STREAM CONQUEST INDEPENDENCE 6311
$64,990
2014 Thor Motor Coach FOUR WINDS
$89,000
2016 Thor Motor Coach Four Winds Super C
$102,900
2012 Jayco SENECA 37FS
$119,000
2015 NEXUS RV GHOST 36G
$119,995
2016 JAYCO SENECA HJ 37HJ
$139,995
2012 WINNEBAGO ITASKA 24D
$63,990
Things To Consider
Before Buying
First, set up a budget and look for the different manufacturers or dealers that sell class C RVs and super C models to look at the options and different prices they offer.
Check out the RV shows for offers. These shows often offer incredible discounts or sales, up to 50% sometimes.
If you are thinking about buying a used RV, NadaGuides.com provides an excellent tool perfect for price estimation. You can also get an inspecting checklist at com for inspecting a motorhome before buying it.
When Buying
Add-ons and accessories are the factors that can increase the price the most when buying a Class C motorhome or a super C model. People can customize everything about their motorhomes, and adding speakers, a luxurious kitchen, or a bigger entertainment area can increase the price by a lot.
After Buying
Some class C RVs require some setup to be ready for use, especially overnight use.
Overnight campgrounds or RV parks can charge a parking fee of $10 to $40 per night, depending on the location and the amenities offered.
RV insurance is a major thing to consider after buying an RV, which can cost $1,000 to $3,000 or more annually.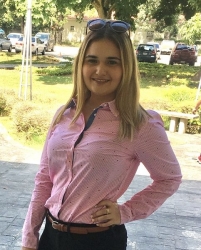 Latest posts by Giovanna Soto
(see all)