$

Class B Average RV: $40,000-$80,000+

$

$

Class C Average RV: $50,000-$80,000+

$

$

$

Class A Average RV: $50,000-$200,000+
Since many years ago, motorhomes have been known to be the dream of adventurers and local travelers, which in fact is due to how comfortable they are.
These recreational vehicles, known as RV in many countries, come in many different types, sizes, and styles, perfect to match any taste, needs, and budget.
So deciding what type of motorhome or RV is the perfect one for you needs prior research to understand the benefits and downsides of each one of them, to see which one really matches your needs.
What Types Of RVs Exist?
Depending on your needs, what you want, and your budget, there are many types of RVs where you can choose from; these are:
Toy haulers.
Travel trailers.
Pop-up campers.
Tiny travel trailers.
Truck campers.
The main characteristic that differentiates these RVs is their size and weight, but there is much more to each of them that's different, like the amenities they come with.
This article made by RVezy has a very detailed explanation of each type of RV and its pros and cons.
What Affects The Price Of A Motorhome or RV?
A motorhome should have certain minimum amenities, like a bed or more, a table, space for preparing food, and storage space; smaller ones tend to be convertible and transform benches in bed, but these are the basics for RVs amenities.
Aside from the basics, many factors modify or affect the final price for a motorhome, which include:
The brand or manufacturer's reputation.
How old is the RV.
If the RV is new or used.
The availability of the model of RV.
Floorplan or inside space.
Extra features (like interior décor, high-tech equipment, and more).
A significant factor that affects the prices of RVs is their condition; buying a new RV can be much more expensive than a used one due to depreciation, and you can save more than 20% if you buy a used one.
Here's a comparison between the prices of the different types of RVs that exist, and also the different between a new and used condition:
| | | | |
| --- | --- | --- | --- |
| RV Type | New (Standard) | Used | Luxury/Customized |
| Class A RV | $50,000-$200,000 | $80,000-$120,000 | Up to $800,000+ |
| Class B RV | $40,000-$80,000 | $10,000-$15,000 | Up to $125,000+ |
| Class C RV | $50,000-$80,000 | $35,000-$70,000 | Up to $140,000+ |
| Fifth-Wheel RV | $35,000-$60,000 | $30,000-$60,000 | Up to $120,000+ |
| Travel Trailer | $15,000-$35,000 | $10,000-$30,000 | Up to $60,000+ |
Many people like to rent an RV before buying; renting a Class A RV can cost $1,400 to $3,500 for a 7-day or a 700-mile trip while renting a Class C RV can cost $1,000 to $2,500 for the same time and miles.
Top Companies
There are many different motorhome manufacturers, and prices vary from one to another; some are Starcraft, Heartland, K-Z RV, Thor Motor Coach, Keystone, Jayco.
Some dealers work with many types of motorhomes and different kinds of brands you can choose from, but they tend to charge more, at least 20% more than the original manufacturer price, although you can always negotiate with them.
You can find local dealers through the National Recreational Vehicle Dealers Association or using the GoRVing.com website, which provides a nationwide search for dealers.
Some brands have a better reputation than others, which also affects the final price of the motorhomes they offer and the quality and benefits they offer.
People also look for used motorhomes as an affordable way to buy an RV; in this case, NadaGuides.com is a powerful tool that provides estimated prices for motorhomes.
The following comparison from Camper Report shows price examples of different RV models:
| | |
| --- | --- |
| RV Model | Price |
| Forest River Inc. Berkshire XLT Diesel 45A (Class A Motorhome) | $280,000+ |
| Coachmen Leprechaun 240FS (450 Ford) (Class C Motorhome) | $68,000+ |
| Dutchmen Astoria 2513RLF (Fifth-Wheel) | $50,000+ |
| Keystone Passport Express 239ML | $18,000+ |
| 2019 Jayco Embark 37MB (Class A Motorhome) | $295,000+ |
| Thor Motor Coach Compass 24LP (Class B Motorhome) | $114,000+ |
| 2015 Palomino PaloMini 177BH (Travel Trailer) | $10,000+ |
| Winnebago Cambria 27K (Class C Motorhome) | $129,000+ |
| Northwood Arctic Fox 28-5C (Fifth-Wheel) | $42,000+ |
| Thor Motor Coach Outlaw 29J (Class C Toy Hauler) | $123,000+ |
| Jayco Jay Sport 10SD (Camper Trailer) | $13,000+ |
| 2017 K-Z RV Connect C191RBT (Travel Trailer) | $20,000+ |
| Thor Motor Coach Hurricane 35M (Class A Motorhome) | $144,000+ |
| Prime Time RV LaCrosse 339BHD (Travel Trailer) | $46,000+ |
| Thor Motor Coach Tuscany 45AT (Class A Diesel Motorhome) | $429,000+ |
Things To Consider
Before Buying
First, check the different types of motorhomes and RV that exist to decide which is the one that fits better with your needs.
Check for the average price of the RV model you want and start looking for dealers or manufacturers.
If you are buying a used RV, you can get an inspecting checklist at Changingears.com for inspecting a motorhome before buying it.
When Buying
For some larger motorhomes, like Class A RV, some states require a specific license to drive it.
Some RV, like fifth-wheel RV, require specific accessories to be able to move, like a specific type of truck with an accessory to tow it.
After Buying
RVs' registration fees vary by state, but costs can range from $50 to $400 a year.
After buying an RV, you'll need to park it somewhere eventually. RV park fees can cost $10 to $50 per night, depending on the location and the amenities provided.
After buying an RV, the next most important thing on the list would be RV insurance.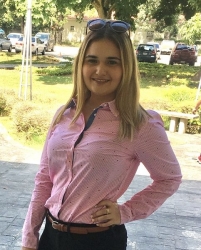 Latest posts by Giovanna Soto
(see all)