$

Used: $30,000-$60,000

$

$

Standard: $35,000-$60,000

$

$

$

Luxury: Up to $120,000
Fifth-wheel RVs, often compared with travel trailers but much bigger, are a great option to buy for those adventurers that like to have the best of both worlds: amenities and independence.
These non-motorized vehicles are typically used for long-term RV living, as they are very spacious and comfortable, enough to be compared to large motorhomes.
The independence fifth-wheel RVs offer is one of the most desirable characteristics because owners can just park them in a specific area and disconnect them from the vehicle, letting them use the vehicle independently, giving them much more freedom than with regular trailers or motorhomes.
What Types Of Fifth-Wheel RVs Exist?
One of the major factors that affect the purchase price of a Fifth-wheel RV is the type or model, and what it offers you.
According to CamperReport.com, fifth-wheel RVs can be classified into several categories:
The luxury group.
The everyday camper group.
The adventurer group.
The new camper group.
What Affects The Price Of A Fifth-Wheel RV?
Fifth-wheel RVs can cost as much as a motorhome due to their space, which includes a better design and spatial distribution; usually, they offer a full master bedroom, full kitchen, big shower, and toilet.
But prices can vary significantly depending on many determining factors such as the size, model, and year, if it's new or used, where you buy it, the amenities included, and the accessories or customizations you want.
A new standard Fifth-Wheel RV can cost from $35,000 to $60,000; more luxurious options with more amenities and space can cost up to $120,000 or more.
A more affordable and popular option is to buy a used fifth-wheel RV; after buying, RVs, motorhomes, and campers start to depreciate, and you can find a Fifth-Wheel RV just a few years old for 20 to 30% less than its original price.
Prices of used Fifth-Wheel RVs can range from $30,000 to $60,000.
Top Companies
Some of the best RV manufacturers are Thor Motor Coach, Keystone, and Jayco, but dealers can have more options to choose from, with the only downside of being more expensive than the manufacturers (although they are open to negotiation).
The National Recreational Vehicle Dealers Association and GoRVing.com can help you find local dealers that work with Fifth-wheel RVs.
Also, although it is not the most popular option, you can buy a used Fifth-wheel RV online, and one of the most used websites for buying used campers is RV trader.
The following comparison shows examples of prices between fifth-wheel RVs that CamperReport.com gathered:
| | |
| --- | --- |
| Fifth-Wheel Trailers | Average Price |
| Keystone Montana | $90,000 |
| Redwood's Redwood | $95,000 |
| Dutchmen Voltage | $65,000 |
| Grand Design's Solitude | $95,000 |
| Grand Design's Momentum | $100,000 |
| Jayco North Point | $70,000 |
| Forest River Wildcat | $50,000 |
| Jayco Pinnacle | $85,000 |
| Northwood Artic Fox | $55,000 |
| Vanleigh Pinecrest | $55,000 |
| Heartland Landmark | $100,000 |
| Forest River Sierra | $60,000 |
| Heartland Big Country | $70,000 |
| Crossroads Volante | $40,000 |
| Winnebago Minnie Plus | $43,000 |
| Forest River Shasta Phoneix | $50,000 |
| Keystone Hideout | $25,000 |
| DRV Mobile Suites | $150,000 |
| Forest River Saber | $52,000 |
| Heartland Bighorn | $75,000 |
| Keystone RV Cougar | $53,000 |
Things To Consider
Before Buying
First, check with the local dealers or manufacturers that offer fifth-wheel RV to look at the different models they offer and their price range.
If you are thinking about buying a used fifth-wheel RV, NadaGuides.com provides an excellent tool for price estimation. You can also get an inspecting checklist at Changingears.com for inspecting an RV before buying it.
When Buying
Fifth-wheel RVs are heavy, so they require a pickup truck or other vehicle with enough capacity to tow them.
It is necessary to add a fifth-wheel hitch to the vehicle that will be used to tow the RV. Here's a video made by RV Education 101 that shows how to hitch up a fifth-wheel RV.
After Buying
Something important to consider after buying a fifth-wheel RV is that if it's wider than the tow vehicle, you will be required to add extended side-view mirrors by the law, which can cost $4 to $50 a pair that clamp onto the side mirrors or $150 to $450 for permanent ones.
The campground or RV park can charge a fee for overnight parking, which can cost from $10 to $40 per night.
A major thing to consider after buying a fifth-wheel RV is insurance. The average Fifth-Wheel insurance can cost from 800 to 1,000 dollars a year. And more luxurious Fifth-Wheel RVs can cost 1,000 to 1,3000 a year to insure.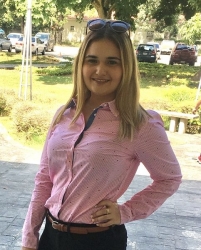 Latest posts by Giovanna Soto
(see all)