$

Rent: $100-$200 per night

$

$

Basic: $12,000-$80,000+

$

$

$

Upgraded: $100,00-$150,000+
Between the different types of trailers and towable RVs, toy haulers have something that makes them different from the other RV trailers.
A toy hauler is an RV trailer with a built-in garage, which means one of its main purposes is to transport "toys" like snowmobiles, motorcycles, and more.
Not only do toy haulers have the capacity to carry "toys" around, but there also exist motorhomes and a few tent trailers that can haul toys.
Why Are Toy Haulers Convenient?
Perfect for those who love exploring the outdoors, a toy hauler is a great acquisition that will make camping trips much easier.
From compact off-road trailers to massive equipment haulers with living space, these RVs' main purpose is to let you experience the utmost comfort by bringing everything you need with you.
Wherever you are going with your RV, a toy hauler will make sure to bring all the big toys with you, like snowmobiles, golf carts, motorcycles, dirt bikes, and more.
The hauler has a rear wall that folds down to drive the big toys in and out to make things easier.
What Types Of Toy Haulers Exist?
According to NadaGuides.com, there are four different types or models of toy haulers:
Travel Toy Haulers.
5th Wheel Toy Haulers.
Motorcoach Toy Haulers.
Cargo Trailer Toy Haulers.
What Affects The Price Of A Toy Hauler RV?
Some factors that can affect the final price of a toy hauler are the manufacturer, the model, size, dealer prices, and amenities and customizations.
Toy hauler trailers can cost about $12,000 to $80,000 or more, but more luxurious models can cost $100,00 to $150,000 or more.
Toy hauler trailers start depreciating right after they are bought so that you can find a well-maintained model a few years old for 20 or 30% less than the original price.
Some people prefer to rent a toy hauler before buying one, which can cost $100 to $200 per night.
Top Companies
Some of the most popular toy hauler manufacturers are Forest River RV,  Heartland RV, Keystone RV, Dutchmen RV, Eclipse RV, Weekend Warrior RV; AskForAdventure.com has an article reviewing these manufacturers.
You can also find toy hauler dealers, which offer many more options and models, but they tend to charge at least 20% more than the original price, although they are open to negotiation.
You can also search for toy haulers at online websites like lazydays.com, rvuniverse.com, rvtrader.com, and rv.campingworld.com.
According to RVOwnerHQ.com, here's an example of the difference between prices of toy haulers depending on the make and model and the size:
| | | | |
| --- | --- | --- | --- |
| Make/Model | RV Class | Length | Cost |
| 1. Forest River Salem FSX 181RT | Travel Trailer | 21′ 8″ | $19,500 |
| 2. Forest River No Boundaries 10.6 | Teardrop | 13′ 10″ | $21,000 |
| 3. Intech RV Flyer Explore | Teardrop | 13′ 9″ | $23,000 |
| 4. Rockwood Geo Pro G19FBTH | Travel Trailer | 20′ 2″ | $28,000 |
| 5. Forest River XLR Micro Boost 301LRLE | 5th Wheel | 32′ 6″ | $40,500 |
| 6. Jayco Jay Flight Octane 255 | Travel Trailer | 29′ | $45,000 |
| 7. Grand Design Momentum G Class 21G | Travel Trailer | 26′ 11″ | $55,000 |
| 8. Dutchmen Voltage Triton 4271 | 5th Wheel | 46′ 4″ | $78,000 |
| 9. Keystone Fuzion 430 | 5th Wheel | 44′ 11″ | $104,000 |
| 10. Thor Motor Coach Outlaw 29J | Class C | 31′ 2″ | $125,000 |
| 11. DRV Full House LX455 | 5th Wheel | 44′ 2″ | $156,500 |
| 12. Thor Motor Coach Outlaw 38KB | Class A | 39′ 10″ | $200,000 |
Things To Consider
Before Buying
First, you need to know what you are looking for. If you only want a small trailer that can carry your "toys," or if you want an RV with sleeping facilities and can haul big "toys."
Then, you need to check different toy hauler manufacturers and dealers to look at their price range.
Some toy haulers need a medium or heavy-duty pickup truck or similar as towing vehicle.
When Buying
Aside from the cargo area, toy haulers can also offer a living area with a small kitchen and a bed, depending on the model.
You have to be aware that the combined weight of the trailer, passengers, cargo, and other gear shouldn't exceed the vehicle's towing capacity.
After Buying
Adding a hitch for the toy hauler on the towing vehicle can cost $50 to $700.
Extended side-view mirrors are required if the trailer is wider than the towing vehicle. These can cost $4-$80 for clamp models or $150-$450 for permanent models.
After buying the toy hauler is necessary to look for RV insurance.
Campgrounds or RV parks can charge $10 to $40 per night, depending on the location and the amenities offered.
If you don't have any parking space, renting an RV storage space can cost $20-$450 per month, depending on the type of storage.
An RV cover can cost about $50 to $1,200 or more.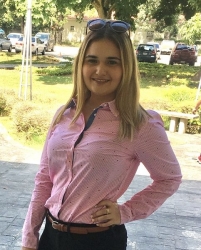 Latest posts by Giovanna Soto
(see all)