$

Motorcycle Camper Trailers: $1,800-$5,500

$

$

Motorcycle Cargo Trailers: $300-$6,000+

$

$

$

Hauling Trailers: $800-$15,000+
A motorcycle trailer can refer to one of two things: a motorcycle hauling trailer designed to tow a motorcycle behind a vehicle/truck/RV, or a trailer designed to be towed by a motorcycle.
These two types of trailers are quite different because one is meant to haul a motorcycle while the other is meant to be towed by a motorcycle.
In any case, both types of trailers can be small with a single axle and just two wheels or larger with a dual axle and four wheels (tandem) that support more weight.
What Affects The Price Of A Motorcycle Trailer?
Prices will vary depending on many determining factors, specifically depending on the type of motorcycle trailer you want, if the motorcycle hauler or the trailer.
The factors that affect the price of a motorcycle hauler include the capacity, type of axle, construction materials, size, manufacturer, design, model, if it's open or enclosed, and if it has ramps or not.
And the factors that affect the price of a motorcycle trailer include the type of axle, the type of trailer (cargo trailer, utility trailer, dog trailer, or camping trailer), the design, size, manufacturer, and customizations.
A simple motorcycle hauling trailer of two wheels that holds the motorcycle upright can cost $800 to $2,500 or more.
Then, a basic flatbed utility trailer to tie down and haul motorcycles can cost $600 to $4,000 or more, while an enclosed cargo trailer for hauling motorcycles can cost $1,000 to $4,000 for single-axle models and $3,000 to $15,000 or more for tandem-axles models.
On the other hand, pulled-behind motorcycle trailers towed behind a motorcycle will be priced depending on the factors mentioned above, especially depending on the type of trailer.
A motorcycle cargo trailers can cost $300 to $1,400 for a small model, $1,500 to $3,000 for a mid-range model, and $3,000 to $6,000 or more for a customized/luxurious model.
And a motorcycle campers can cost $1,800 to $3,000 for one-person models, $2,000 to $3,500 for a two-person model, and $3,000 to $5,500 for more luxurious models.
As with any other trailer, RV, or motorhome, motorcycle trailers start depreciating once they are bought; you can find used motorcycle trailers in good conditions for at least 10% less than the original price.
Top Companies
Motorcycle trailers that are both motorcycle haulers and pull-behind trailers can be made by different manufacturers including Kendon, MotorSport Trailers, Port-A-Chopper, RAD Industries, Razor, Stinger, and Trailer in a Bag.
Also, both motorcycle trailer types can be typically found at motorcycle dealers and trailer dealers; dealers tend to charge more than the original price, but they are open to negotiation.
Check this article made by CitizenShipperlistingt the best motorcycle haul trailers of 2022, and this article made by The-Pool.com lists the best motorcycle pull-behind trailers of 2022.
Things To Consider
Before Buying
First, it's important to know if you want a motorcycle hauling trailer or a trailer that a motorcycle can tow to carry certain things.
Then, after knowing which type of motorcycle trailer you want it's time to look for the different manufacturers that design them or dealers that sell them.
It's important to remember that the trailer, tow vehicle, and hitch must match between them to be able to work together perfectly.
With either type of motorcycle trailer, it's important to keep in mind that the total trailer's weight capacity shouldn't be exceeded.
The tow vehicle will increase its fuel consumption when pulling a trailer behind.
When Buying
Typically, trailers with a gross vehicle (GVWR) weighting over 1,500 will require brakes on all wheels, but it depends on the estate you live.
The towing vehicle will need a hitch installed. A hitch installed on the back of a motorcycle can cost $200 to $425, while a hitch installed on a vehicle costs $200 to $500 or more.
After Buying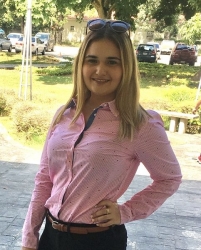 Latest posts by Giovanna Soto
(see all)