$

Small: $1,800-$3,000

$

$

Mid-size: $2,000-$3,500

$

$

$

large/luxurious: $3,000-$7,500+
In recent years, the market for trailers and RVs have been increasing, and more people are eager to try this life-on-wheels lifestyle, but what not many people know is that there also exist RVs for motorcycles.
What's a Motorcycle Camper?
A motorcycle camper, also called a motorcycle tent trailer, is an enclosed structure with wheels that can be towed behind a motorcycle.
This motorcycle trailer is a much smaller and lightweight version of typical tent trailers, perfect and compact to be towed by a motorcycle.
As its name suggests, the motorcycle tent trailer can unfold into a tent with a hard floor that doesn't touch the ground.
They come in different sizes, and there are many different designs, and depending on that, they can accommodate from one person sleeping in small models to larger models that accommodate up to two people, chairs, and even a small table.
What Amenities Does A Motorcycle Camper typically Include?
According to Outdoorsy.com, the typical amenities a motorcycle camper should include are:
Sleeping accommodations.
A place to change your clothes.
A pullout sunshade.
Even when there are different sizes, motorcycle campers are tiny, so they don't come with bathrooms, kitchens, or other spaces like recreational rooms.
What Affects The Price Of A Motorcycle Camper?
Some factors such as the size, weight, model, year, manufacturer, materials, assemble mechanism, general condition, and add-ons can affect the final price of a motorcycle camper.
Small campers of 150 to 250 pounds with capability for one sleeping person can cost from $1,800 to $3,000.
Mid-size motorcycle campers of about 250 to 359 pounds with capability for up to two sleeping people can cost from $2,000 to $3,500.
On the other hand, larger camper trailers of about 300 to 400 pounds and more luxurious models can cost from $3,000 to $7,500 or more.
As with any other trailer, RV, or motorhome, motorcycle campers start depreciating once they are bought; you can find used motorcycle tent trailers in good conditions for at least 10% less than the original price, with prices ranging from $300 to $3,000.
Top Companies
Typically, you can get a motorcycle tent trailer from a dealer or directly from the manufacturer; some of the most known motorcycle camper manufacturers are Aspen, Kamp-A-Long, Komoact Kamp, Lees-ure Lite, Roadman, and Time Out Trailers.
To search for used motorcycle camper prices online, eBay and CycleTrader.com are good options.
According to Crowsurvival.com, these are the best motorcycle campers based on price and benefits:
| | |
| --- | --- |
| Brand and Model | Starting Price |
| Solace Deluxe Motorcycle Camping Trailer | $3,000 |
| Double Duty Utility Camper | $1,699 |
| Kwik Kamp II | $3,699 |
| Full-Size Camper – Roadman Campers | $4,300 |
| Mini Mate Kompact Kamp | $3,195 |
| Time Out Pop-Up Camper | $4,595 |
| Time Out Camper | $3,995 |
| Bunkhouse Queen | $3,699 |
| Spitfire XT | $6,999 |
| Easy Camper – Timeout Camper | $3,495 |
| Moby1 C2 Camper | $6,500 |
| Lees-ure Lite | $4,795 |
Things To Consider
Before Buying
First, you have to check for dealers near you that sell motorcycle campers and research the different manufacturers there are and reviews.
Selecting the right camper for you is not easy, and the storage space, size, weight, set-up, design, and durability are significant factors to consider.
Before deciding on the model of motorcycle tent trailer to get, it is essential to know the maximum towing capacity of the motorcycle. You can check this on the owner's manual or the manufacturer's website for the motorcycle model. And not only consider the weight of the trailer but all the weight and cargo you will put in it.
According to com, you want to tow a camper that weighs less than 20% of the motorcycle's total weight. Calculate the perfect weight for a camper with this equation: Gross Vehicle Weight Rating (GVWR) – Curb Weight of motorcycle = Total Motorcycle Capacity.
When Buying
New motorcycle campers usually include the roofers and hardware required to set it up. Integrated campers usually raise semi-automatically, while non-integrated campers have to be set up manually.
When buying a used motorcycle tent trailer, it's important to check its structural condition. The unit should still be waterproof.
After Buying
The motorcycle in charge of towing the camper needs a hitch to tow. Hitches come in different forms, and there's a specific hitch for each motorcycle model. Hitches typically cost $200 to $450. This video shows how to install a hitch.
The motorcycle needs to connect to the trailer's lights, and if it's not connected, a wiring harness can cost $30 to $150.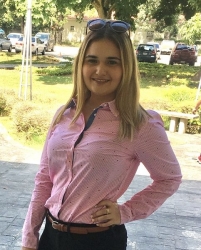 Latest posts by Giovanna Soto
(see all)