$

Single-Axle: $800-$2,500+

$

$

Flatbed Utility: $600-$4,000+

$

$

$

Cargo Trailer: $1,000-$15,000+
A motorcycle hauling trailer, most known as a motorcycle trailer, is designed to haul one or many motorcycles behind a towing vehicle.
And they come in a great variety of types and models with many weight capacities; typically, simpler ones that only carry one bike are single-axle, while a trailer able to carry various bikes is double-axle (tandem).
The main purpose of these trailers, as car trailers, is to transport motorcycles from point A to point B due to many reasons.
What Types of Motorcycle Hauling Trailers Exist?
According to TheDrive.com, motorcycle hauling trailers can be classified into four categories:
Enclosed trailers: This type of trailer protects the bikes while they are being transported.
Open flatbed trailers: This type of trailer doesn't protect the motorcycles as much as enclosed trailers and consists mainly of a frame with a ramp. They are cheaper than enclosed trailers.
Stand-up motorcycle trailers: This type of trailer is designed to fold up and remain standing, perfect for saving storage.
Front-wheel trailers: This type of trailer is the most affordable but has a weight capacity of only 800 lbs.
What Affects The Price Of A Motorcycle Hauling Trailer?
Prices will vary depending on many determining factors such as the capacity, type of axle, construction materials, type of hauling trailer, size, manufacturer, design, model, and loading/unloading method.
A simple motorcycle hauling trailer of two wheels that holds the motorcycle upright can cost $800 to $2,500 or more.
A basic flatbed utility trailer that holds the motorcycle tied down can cost $600 to $4,000 or more.
And an enclosed motorcycle hauling cargo trailer can cost $1,000 to $4,000 for single-axle models and $3,000 to $15,000 or more for tandem models.
A saving option for DIY experts can be assembling the motorcycle trailer themselves by using a motorcycle trailer kit which can cost $350 to $550.
As with any other trailer, motorcycle hauling trailers start depreciating as soon as they leave the dealership; you can find used motorcycle trailers in good conditions for at least 10% less than the original price.
Top Companies
Typically, motorcycle hauling trailers are available at motorcycle or trailer dealers; people also look for these types of trailers on specialized online retailers.
Some motorcycle hauling trailer manufacturers include Kendon, MotorSport Trailers, Port-A-Chopper, RAD Industries, Razor, Stinger, and Trailer in a Bag.
For DIY motorcycle trailer kits, you can get them at companies like Sport Utility Trailers.
Check this article made by Moneyinc.com that list the top 10 best motorcycle hauling trailers reviews.
Things To Consider
Before Buying
First, it's important to know what type of motorcycle hauling trailer you want.
Then it's time to look for the different manufacturers and dealers to get a price estimation.
Keep always in mind that the trailer must fit your motorcycle. And, depending on how many of them you want to tow, you'll have to buy a single-axle or tandem model.
Remember that the towing vehicle will increase fuel consumption when pulling a trailer behind.
These motorcycle hauling trailers are typically towed by a pickup truck, but any vehicle can tow them if it has a large enough weight capacity.
When Buying
Typically, trailers with a gross vehicle (GVWR) weighting over 1,500 will require brakes on all wheels, but it depends on the estate you live in. These can be surge brakes or electric brakes. In some estates surge, brakes are illegal.
The towing vehicle will need a hitch installed. A hitch installed on a vehicle costs $200 to $500 or more.
If needed and the trailer doesn't include it, a security tie-down system can cost $100 to 400.
After Buying
The motorcycle hauling trailer must be properly secured to the tow vehicle/motorcycle, and the bike must be properly secured to the trailer. Here's a video that shows how to load a haul trailer.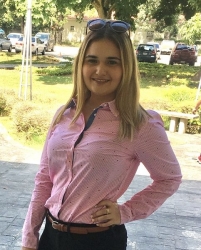 Latest posts by Giovanna Soto
(see all)