$

Rent: $65-$200+

$

$

Open Car Trailer: $2,000-$10,000+

$

$

$

Enclosed Car Trailer: $6,000-$20,000+
Car trailers are a great help for many car owners when they need to move their vehicles long distances.
The most common situation where a car trailer, also called car hauler or car carrier, is used is when people move, especially to another state; people often hitch their cars and car trailer to the back of the moving truck.
This trailer is a four-wheel carrier that allows you to tow any vehicle behind another vehicle, commonly a truck, keeping its wheels off the ground.
Car trailers are a great option if you need to move your car somewhere, and it's much cheaper than hiring a professional auto shipper or private driver.
What Types Of Car Trailers Exist?
Car trailers can be classified into two major categories: open car trailers or enclosed car trailers.
Open trailers are the cheapest between the two models, and they usually have one or two axles.
Having just one or two axles means they carry lightweights, so they are not meant to carry big pickup trucks, but they are easier to maneuver.
Meanwhile, enclosed car trailers are more expensive and usually have two or three axles.
Enclosed car trailers can carry heavier weights, and they sway less than open car trailers, towing more smoothly.
Another good point of enclosed car trailers is that they protect the vehicle as it's stored inside the trailer.
If the car trailer has two axles is also called dual or tandem, and they can carry medium weight.
What Affects The Price Of A Car Trailer?
Some factors that can affect the price of a car trailer are the manufacturer, length, size, axles, the frame (which can be aluminum, galvanized, or steel), the type, and the design.
Renting a car trailer can cost about $65 to $200 or more per day.
Buying an open car trailer can cost about $2,000 to $10,000 or more, and an enclosed car trailer can cost about $6,000 to $20,000 or more.
Like many other trailers and RVs, car trailers depreciate over the years after being bought, and used car trailers can cost 15% to 20% less in the 1st year.
There's also a DIY option for those with strong mechanical skills to buy a simple race car trailer for $300 plus the cost of wheels.
Top Companies
You can find car trailers at online websites like NationWideRetailers.com, AllAmericanTrailer.com, and BigTexTrailerWorld.com.
Offers for used car trailers are often posted on craigslist or eBay; NadaGuides.com provides an excellent tool for price estimations.
Things To Consider
Before Buying
First, it's important to consider the options and types of car trailers available (open and or closed) and set up a budget.
Be aware that you need to know the vehicle's weight you want to tow because car trailers have different capacities.
If you want to buy a used car trailer, NadaGuides.com can get you a price estimation.
When Buying
Usually, car trailers come with D-rings, which are used to secure tie-down straps.
Renting a parking place to park or store the trailer outdoors can cost $20-$100 per month.
For DIY lovers that want to save on a car trailer by doing it themselves, this video shows how to build a car trailer.
It's required to install hitches for car trailers. Car trailers use two main types of hitches, a receiver ball or a gooseneck hitch. Installing a hitch on the towing vehicle can cost $100-$850 for a rear-mounted receiver ball or $400-$800 for a gooseneck hitch.
After Buying
Depending on the size of the trailer, installing side-view mirrors could be required. Detachable clamp mirrors can cost $4-$80 and installing permanent mirrors can cost $150-$450.
Renting a parking place to park or store the trailer outdoors can cost $20-$100 per month.
Getting insurance for the car trailer is necessary. In some areas, car trailers are automatically covered for liability under the tow vehicle's policy when the trailer is hitched to the vehicle. Usually, adding comprehensive coverage is extra.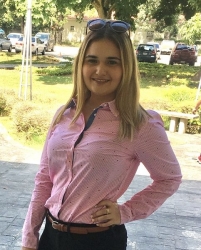 Latest posts by Giovanna Soto
(see all)