Tow dollies are one of the most popular options for towing a vehicle besides trailers or tow bars due to how easy and convenient they are.
They are very popular among RV owners due to the freedom it gives them to take the car with them and not have to run errands in a big motorhome; tow dollies can be attached to anything, from RVs and regular vehicles to trucks and even road trains,
A tow dolly is a type of trailer that consists of an axle and two wheels, and which specific purpose is to tow a vehicle; tow dollies also include plus ramps and blocks to tow the vehicle.
These semi-trailers keep the drive wheels of the vehicle off the ground while towing, which differentiates them from tow bars, which keep all four wheels of the towed vehicle on the floors; with the tow dolly, the rear wheels of the towed vehicle, or toad, remain on the ground.
What Types Of Tow Dollies Exist?
According to Customquip.com, there are two common types of dollies:
Converter dollies. These are commonly used in road trains. This type of dolly allows multiple trailers to be attached forming a road-train configuration.
Low-loader dollies. These dollies use a kingpin, so heavy cargo doesn't overload the truck's wheels.
What Affects The Price Of A Tow Dolly?
Some factors such as the size, weight, model, year, manufacturer, towing capacity, materials used, and the type of brakes they have can affect the final price of a motorcycle camper.
A new tow dolly can cost from $1,000 to $4,500.
While renting a tow dolly can cost $40 to $60 per day; renting price estimation depends on location, type of trip, and pick-up options.
Top Companies
Some of the major tow dolly manufacturers include Demco Products, Master Tow, LiftMaster, Pentagon Tools, Acme, American Car Dolly, and Roadmaster, but people typically buy them at trailer or RV dealers.
For renting a tow dolly, U-Haul is the biggest trailer renting company that also rents tow dollies.
According to Riversidetrailer.com, the following are the best tow dollies of 2022:
| | |
| --- | --- |
| Manufacturer and Model | Price |
| 1. Demco 9713047 Tow Dolly | $3,250 |
| 2. Roadmaster Inc. Universal Tow Dolly | $3,550 |
| 3. Dethmers Manufacturing Company 9713045 Tow Dolly | $4,325 |
| 4. Demco 9713046 Kar Kaddy Three Tow Dolly | $4,525 |
| 5. Demco 9713049 Kar Kaddy Tow Dolly | $5,383 |
Things To Consider
Before Buying
First, you need to check the different manufacturers and tow dolly models to get a price estimation.
Check the weight of the vehicle you want to tow to match it with the correct tow dolly that can support the weight.
The towing vehicle or RV must be larger and heavier than the vehicle being towed. Experts recommend that the towing vehicle must be at least 750 pounds heavier than the towed vehicle.
Some states require tow dollies to be licensed, but not all states required this.
When Buying
Typically, tow dollies come with their safety chains and security tie-down straps.
Make sure the vehicle you want to tow fits in the tow dolly perfectly.
After Buying
A hitch will be necessary to pull the dolly, which can cost $100 to $850 or more.
Loading a tow dolly typically requires two people. Here's a video that shows how to load a tow dolly.
Auto insurance policies don't cover tow dollies, and additional coverage may be needed.
Typically, all-wheel or rear-wheel drive vehicles will need to have the driveshaft removed to be able to be towed with a tow dolly.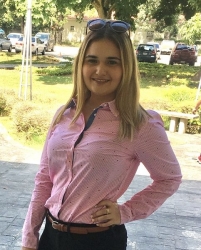 Latest posts by Giovanna Soto
(see all)