$

Lightweight/Removable: $30-$250

$

$

Permanent/Heavy-duty: $400-$1,200 +

$

$

$

Tow Bar+Intallation: $500-$2,100+
A tow bar, also referred to as a tow hitch, is a towing device used to transport vehicles like car trailers and tow dollies.
They are installed on the rear of the towing vehicle's frame and attached to the front of the vehicle that needs to be towed; this differentiates tow bars from tow dollies because with a tow bar the vehicle rides on all of its four wheels while being towed.
RV owners use tow bars a lot because they give them the freedom to take any vehicle with them when the motorhome is parked.
What Is a Tow Bar Used For?
The main purpose of a tow bar is to transport vehicles, trailers, or RVs behind other vehicles, working as a towing device using a hitch system.
Tow bars are not only used for recreational purposes where RV owners take their vehicles with them on a trip, but they are also used in cases where a vehicle is damaged and needs to be transported to another location, or if a person needs to transport tow vehicles at the same time from one place to another.
These towing devices are not only used for wheel vehicles, as people can also tow campers, boats, or even small heavy equipment with them.
What Types Of Tow Bars Exist?
According to Witter Towbar Systems, there are different types of tow bars:
Flange Tow bar: This tow bar is bolted to a flange plate which is fitted to the underside of the vehicle. Its components are visible.
Swan Neck Tow bar: It's called swan neck due to its shape. This tow bar is fixed directly to the underside of the vehicle.
Fixed Tow bar: This tow bar cannot be removed easily from the vehicle. They can be swan neck and flange designs.
Detachable Tow bar: This tow bar can be removed easily from the vehicle using a quick-release handle to allow a quick detachment.
What's The Towing Capacity?
According to LetsTowTaht.com, ow bars can be classified depending on their towing capacity, which is the maximum legal weight limit it can safely pull.
Typically, the towing capacity of towing bars ranges from 2,000 pounds to 17,000 pounds or more.
The towing capacity or towing rating of a tow bar is then classified into four or five classes depending on the weight it can pull, which was designed by the Society of Automotive Engineers (SAE).
The following chart shows the comparison between towing capacity classes:
Hitch
Class
Common Applications
Receiver
Size
GTW Capacity
(lbs.)
TW Capacity
(lbs.)
Class 1
Cars and crossovers
1-1/4-inch
Up to 2,000
Up to 200
Class 2
Cars, crossovers and minivans
1-1/4-inch
Up to 3,500
Up to 350
Class 3
Crossovers, vans, SUVs and trucks
2-inch
Up to 8,000
Up to 800
Class 4
Trucks and SUVs
2-inch
Up to 10,000
Up to 1,000
Class 5 – Extra Duty
Trucks and SUVs
2-inch
16,000 to 17,000
2,400 to 2,550
Class 5 – Commercial Duty
Dually and chassis cab trucks
2-1/2-inch
18,000 to 20,000
2,700
What Affects The Price Of A Tow Bar?
Some factors such as the size, weight, model, year, manufacturer, towing capacity, materials used, the type of tow bar it is, and the type of brakes it has can affect the final price of a tow bar.
Aside from these price-affecting factors related to the tow bar, some other factors like the make, model and age of your vehicle can affect the price of a tow bar because it needs to be compatible with the vehicle where it's going to be installed.
A lightweight removable tow bar can cost from $30 to $100, while more sturdy models can cost up to $250.
Permanent heavy-duty tow bars that can fold away can cost $400 to $1,200 or more.
Installing a tow bar costs extra and can increase the total cost of the purchase, totaling $500 to $2,100 or more.
Top Companies
Some of the major tow bar manufacturers include Blue Ox, Demco, Draw-Tite, ECOTRIC, CURT, Nightwalk, and Roadmaster.
You can get a tow bar typically at RV dealerships and auto supply stores like CSK Auto or NAPA; also, tow bars are available at online retailers like Amazon and eTrailer.com.
According to FindThisBest.com, the following are some of 0the best tow bars of 2022:
Manufacturer and Model
Capacity
Price
Blue Ox BX7420 Class IV Avail
10,000 lb.
$995
Roadmaster 522 Falcon All-Terrain
6,000 lb.
$775
Blue Ox BX4330 Acclaim Class III
5,000 lb.
$633
Blue Ox BX7380 Alpha II Motorhome-Mounted
6, 500 lb.
$899
ECOTRIC Tow Bar Compatible with 1974-1978 Volkswagen Beetle and others
$185
Blue Ox BX4370 Ascent
7500 lb.
$1,100
Roadmaster 576 Sterling All-Terrain
8,000
$1,143
CURT 19745 Universal Car RV
$118
Roadmaster 422 BlackHawk 2 All-Terrain
10,000
$915
Blue Ox BX7322 Adventurer Adjustable
5000
$295
Things To Consider
Before Buying
First, you have to know which type of tow bar is perfect for you, depending on what you want to tow and how much it weighs.
Then, start looking for different brands, reviews, and price estimations for the tow bar model you want.
If you are thinking of towing a car, make sure it can be towed flat. Check the owner's manual for this information.
Check the weight of the vehicle you want to tow to match it with the correct tow bar that can support the weight.
Make sure that the vehicle to be towed fits on the tow bar before paying for it.
When Buying
Tow bars should come with mounting hardware. Many also include safety chains or cables for installation, if not included, they can cost $5 to $50 or more.
If your vehicle was manufactured after September 1998, it must have built-in tow bar mounting points. Here's a video that shows how to install a tow bar.
After Buying
A hitch will be necessary to connect the tow bar to the towed vehicle, which can cost $100 to $850 or more.
The towed vehicle must have specific lights that can cost $100 to $250 or more.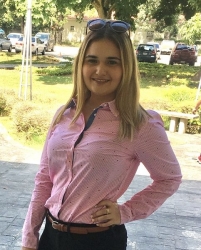 Latest posts by Giovanna Soto
(see all)