$

Rental: $15-$75 Per Day

$

$

Single-Axle: $1,000-$4,000

$

$

$

Tandem-Axle: $3,000-$15,000+
For people who have to move a lot of things often, like construction workers and, or people moving their belongings to another place, a cargo trailer can be a great acquisition.
Cargo trailers are great for moving lots of things or very heavy ones and typically are used to transport goods from one location to another.
One of the most common cargo trailers that exist is the Haul trailer, especially the long models, which are often used to transport goods long distances.
What's a Cargo Trailer?
A cargo trailer is a trailer designed as a rectangular box with a roof and wheels.
This trailer is often referred to as an enclosed trailer because the cargo area is protected from the elements.
Cargo trailers are made from durable materials, like steel or aluminum, and the metal and hard exterior is accompanied by a set of two to four tires.
These towable trailers come in various sizes; the most common widths are 5', 6', 7', and 8.5', and the most common lengths are between 8' and 32'.
Cargo trailers can carry a lot of weight, and depending on their capacity, they can be single-axle or dual-axle (tandem) trailers.
Also, these trailers typically include a side door, rear door, and/or access ramps, with the possibility of adding extras to it depending on the owner's needs.
What's The Difference between single-axle and dual-axle trailers?
The major factor that differentiates single-axle trailers from tandem trailers is their weight or towing capacity.
Dual-axle trailers or tandem have more towing capacity than single-axle trailers to handle more weight in the cargo area.
But there are also other differences between dual-axle trailers, like the price, stability, and maneuverability.
Dual-axle trailers cost more than single-axle trailers, they are very stable when towed, and are hard to maneuver by hand, but easy to control if a tire goes flat, while single-axle trailers are cheaper, easy to maneuver by hand, less stable when towed, and hard to control if a tire goes flat.
What Affects The Price Of A Cargo Trailer?
The final price for a cargo trailer can vary depending on many factors like the construction materials, size, if it's single-axle or tandem, the manufacturer, design, its age and condition, and any extras added.
A new single-axle cargo trailers can cost about $1,000 to $4,000 with a size of 4'x6′ to 7'x14′; while a tandem cargo trailer can cost about $3,000 to $15,000 or more.
More specific enclosed cargo trailers designed to haul vehicles can cost more, from $6,000 to $20,000 or more.
Cargo trailers, like any other trailer, start depreciating as soon as they leave the dealership, and you can find used cargo trailers in good conditions for 15% to 20% less than the original price.
Many people that don't use cargo trailers for work will prefer to rent; renting a cargo trailer can cost $15 to $75 or more per day.
Also, there's an affordable DIY option, and people can build a cargo trailer just by buying the how-to plans or blueprints, which can cost $15 to $50, and the materials.
Top Companies
Typically, you can get a cargo trailer at online retailers like TrailerSuperStore.com, LookTrailers.com, Carry-OnTrailer.com, and UsaCargoTrailerSales.com; For used cargo trailers, eBay and Craigslist are popular websites for research prices.
Renting cargo trailers is also a popular option, and most trailer rental companies are small local firms; one of the most known national cargo trailer rent companies is U-Haul, but other companies like Hertz Equipment Rental and United Rentals also rent them.
For building a cargo trailer as a DIY project, you can get the blueprints at companies like Northern Tool + Equipment, RRR Enterprises, and TrailerPlans.com.
The following comparison shows a price list for some of the different sizes and models of cargo trailers offered by UsaCargoTrailersSales.com:
| | | |
| --- | --- | --- |
| Size | Axle | Average Price |
| 6'×12' | Single Axle | $4,595 |
| 6'×12' | Tandem | $5,150 |
| 6'×14' | Tandem | $5.295 |
| 7'×12' | Tandem | $6,550 |
| 7'×14' | Tandem | $6,625 |
| 7'×16' | Tandem | $6,750 |
| 7'×18' | Tandem | $7,195 |
| 7'×20' | Tandem | $7,450 |
| 8.5'x14' | Tandem | $8,225 |
| 8.5'x16' | Tandem | $8,325 |
| 8.5'x18' | Tandem | $8,475 |
| 8.5'×20' | Tandem | $8,575 |
| 8.5'x22' | Tandem | $8,775 |
| 8.5'×24' W/5200 | Tandem | $9,375 |
| 8.5'x26' W/5200 | Tandem | $9,675 |
| 8.5'x28' W/5200 | Tandem | $9,795 |
Things To Consider
Before Buying
First, you need to think about the type of cargo trailer you want, considering what you are going to use it for. TrailerShopper.com explains how to select and buy the best cargo trailer for you.
Look for price estimations for used cargo trailers on websites like eBay and Craigslist.
It's important to know the weight of your cargo or the approximate weight of the things you want to put inside the cargo trailer. This article made by Carry-OnTrailer.com explains how to calculate the total towing capacity of the trailer.
When Buying
Cargo trailers usually come with breaks, lighting, safety chains, and D-rings. Also, some of them include an electric breakaway kit and a slide-in ramp.
Take into consideration that trailers with a weigh over 1,500 must have brakes on all wheels in most states. Two common options are surge brakes and electric breaks. In some states, surge breaks are illegal.
It's necessary to install a hitch on a towing vehicle. A standard ball trailer hitch can cost $200 to $500 or more, and a gooseneck hitch can cost $400 to $800 or more.
After Buying
If the cargo trailer is wider than the towing vehicle, you'll be required to install extended side-view mirrors. These mirrors can cost $4-$50 for clamp models and $150-$450 for permanent models.
Some extras people usually buy are a spare tire, which can cost $20 to $200; detachable ramps, which can cost $100 to $700; and a locking toolbox, which can cost $100 to $400.
Many states have regulations over trailers' breaks. An electronic trailer brake controller can cost $40 to $200. A breakaway system for the trailer can cost $10-$40.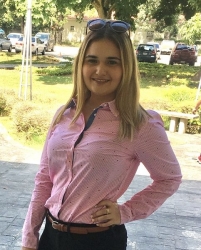 Latest posts by Giovanna Soto
(see all)