$

Economy-Class: $300-$1,400

$

$

Mid-Range: $1,500-$3,000

$

$

$

Customized: $3,000-$6,000+
Motorcycle cargo trailers are great acquisitions for motorcycle owners that love camping and recreational trips, letting them go on any type of adventure without leaving the motorcycle behind.
What's A Motorcycle Cargo Trailer?
As its name suggests, a motorcycle cargo trailer, also called a motorcycle touring trailer, is a special type of trailer that can be towed by a motorcycle; its specific purpose is to haul and store cargo.
Compared often to regular enclosed trailers but much smaller, this type of motorcycle trailer is typically very lightweight and has a box design with a lid, perfect for making storage more accessible.
What Are Motorcycle Cargo Trailers Used For?
Motorcycle cargo trailers are used to transport cargo, but that means there are many situations where one of these can be very useful.
These smaller versions of a car's cargo trailers can haul camping gear, construction tools, business supplies, and even help with the moving.
What Affects The Price Of A Motorcycle Cargo Trailer?
Some factors will affect the final price of a motorcycle cargo trailer, like the type of cargo trailer it is, the condition, manufacturer, size, weight, cargo capacity, materials (steel, aluminum, or fiberglass), and customizations or extras like upgraded lights or chrome trim.
For an economy-class motorcycle cargo trailer, prices can go from $300 to $1,400; these types of cargo trailers can be open flatbed trailers with no sides or lid or low-cost enclosed cargo trailers.
A mid-range motorcycle cargo trailer can cost $1,500 to $3,000, while a larger and customized motorcycle cargo trailer can cost $3,000 to $6,000 or more.
People with mechanical skills can opt to do a DIY project and create a motorcycle cargo trailer for less than what they cost by only paying for the materials and parts.
As with any other trailer, RV, or motorhome, motorcycle cargo trailers start depreciating once they are bought; you can find used motorcycle tent trailers in good conditions for at least 10% less.
Top Companies
Typically, you can get a motorcycle cargo trailer from a dealer or directly from the manufacturer; some of the most known motorcycle cargo trailer manufacturers include Gypsy Trailers, Magneta Trailers, Motorvation Engineering, Trailmaster, ZZ Trailers, and Time Out Trailers.
To search for used models, eBay is the best option to look at price estimations for used motorcycle cargo trailers.
The following comparison shows price examples of motorcycle cargo trailers of different sizes and models from Time Out Trailers:
| | |
| --- | --- |
| Model | Price |
| XL 1800 | $2,595.00 |
| XL HD | $2,595.00 |
| Ion | $2,595.00 |
| Dart | $2,195.00 |
Things To Consider
Before Buying
First, you need to decide the type of motorcycle cargo trailer that best fits your needs. Search for reviews online on the different manufacturers and models.
It's important to check your motorcycle's maximum towing capacity before towing a trailer with it. You can check this in the motorcycle owner's manual or the manufacturer's website.
When Buying
New motorcycle cargo trailers are usually shipped in large crates on a semi-truck, and probably you'll need to unload them with a forklift. The complete manual about assembly and general information must come with it.
People with strong DIY skills can also build a small motorcycle cargo trailer paying for just the parts and materials. This video shows how to create a motorcycle cargo trailer.
After Buying
The motorcycle towing the cargo trailer will need a hitch to be installed. Hitches typically cost $200 to $450. This video made by Open Road Outfitters shows how to install a hitch.
The motorcycle needs to connect to the trailer's lights. Buying a wiring harness to connect the cargo trailer lights typically costs $30 to $150.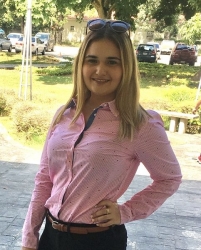 Latest posts by Giovanna Soto
(see all)