$

Cargo Trailer: $1,000-$15,000+

$

$

Car Trailer: $6,000-$20,000+

$

$

$

Travel Trailer: $8,000-$65,000+
Enclosed trailers are known for protecting their cargo from external elements, making them very popular among trailer owners.
These trailers are basically boxes on wheels, but they can vary from the most simple and small models to luxurious and spacious enclosed trailers, ready to carry whatever you need.
Enclosed trailers need a hitch for trailer owners to be able to tow them; the three types of hitches an enclosed trailer can use are bumper-pull hitches, gooseneck hitches, and fifth wheel hitches.
Depending on the weight capacity they have, enclosed trailers can have one, two, or three axles, which will determine the maximum weight they can carry.
What Are The Uses Of An Enclosed Trailer?
According to FormulaTrailers.com, there are many ways owners of enclosed trailers can benefit from them, which include:
Landscaping.
Hobby space.
Mobile business.
Mobile office.
Storage.
Contractor/equipment.
Moving.
Recreation.
Camping.
Haul cargo.
Types Of Enclosed Trailers:
There are many different types of enclosed trailers that are used for different purposes, which include:
What Affects The Price Of An Enclosed Trailer?
The final price for an enclosed trailer can vary depending on many factors like the construction materials, wall thickness, design, model, size, hitch type, if it's single-axle or tandem, the manufacturer, its age, and condition, and any extras added.
An enclosed cargo trailer can cost $1,000 to $4,000 for a single-axle trailer, and $3,000 to $15,000 or more for a dual-axle enclosed cargo trailer.
Enclosed car trailers can cost $6,000 to $20,000 or more.
Travel trailers can cost $8,000 to $65,000.
Fifth wheel trailers can cost $13,000 to $100,000.
Toy hauler trailers can cost $12,000 to $80,000 or more.
Prices for used trailers vary significantly, and new trailers start depreciating as soon as they leave the dealership, depreciating 15% to 20% the next year and 10% more for each passing year.
Top Companies
As there are many types of enclosed trailers, there are many different manufacturers that make them; according to TropicTrailer.com, the best enclosed trailer manufacturers are Look, Haulmark, Continental Cargo, Pace American, and Diamond Cargo.
Typically, you can get enclosed trailers at online retailers like TrailerSuperStore.com, LookTrailers.com, and UsaCargoTrailerSales.com.
For used enclosed trailers, eBay and Craigslist are popular websites for research prices; also, NadaGuides.com provides a tool to estimate prices.
The following comparison shows the difference between some brands of enclosed trailers by RenownCargoTrailers.com:
| | | | |
| --- | --- | --- | --- |
| Comparison Grid | Rock Solid Cargo | Anvil Trailer | Continental |
| Lowest Price*  | $4,395 | $4,700 | $4,899 |
| Durability | Can add 0.030 aluminum skin with different packages | Can add 0.030 aluminum skin for $150 | 0.030 aluminum skin standard |
| Customization | 2 Base Colors, additional colors available for fee | 6 Different Base Color Options | 1 Base Color. Many different options for fee |
| Customer Ratings on Google | 4.6 / 5.0 | 3.2 / 5.0 | 2.6 / 5.0 |
| Warranty Period | 5 Year Structural | 5 Year Limited Factory | 1-5 Years Depending on Model |
Things To Consider
Before Buying
First, you need to think about the type of enclosed trailer you want depending on your needs and what you are going to use it for.
If you think about buying a used trailer, use NadaGuides.com to estimate the price for used enclosed trailers.
It's important to know the weight of your cargo or what you are going to put inside the enclosed trailer to know the number of axles it needs to have. This article made by Carry-OnTrailer.com explains how to calculate the total towing capacity of the trailer.
Keep in mind that towing an enclosed trailer can reduce the tow vehicle's fuel efficiency depending on its weight.
When Buying
All enclosed trailers should come with their breaks, lighting, safety chains, and D-rings.
If a trailer weighs over 1,500, it must have brakes on all wheels in most states. Two common options are surge brakes and electric breaks. In some states, surge breaks are illegal.
It's necessary to install a hitch on the towing vehicle. A standard ball trailer hitch can cost $200 to $500 or more, and a gooseneck hitch can cost $400 to $800 or more.
After Buying
If the cargo trailer is wider than the towing vehicle, you'll be required to install extended side-view mirrors. Clamp models typically cost $4 to $50, while permanent models cost $150 to $450.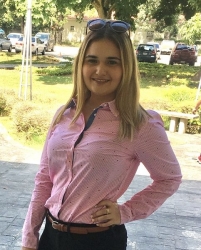 Latest posts by Giovanna Soto
(see all)