$

Straight-load Trailer: $5,000-$17,000

$

$

Slant-load Trailer: $5,000-$30,000

$

$

$

Trailers With Living Quarters: $35,000-$100,000
Horses are amazing and noble creatures that have a long history of serving as transportation for humans.
In modern days, horses are great pets, and although some still use them for work, they also participate in competitions, or just take strolls with their owners.
In any case, and even when horses can do long distances, they surely can't be used nowadays to go from one state to another, or even in the highways to take them from one place to another, and that's when horse trailers come in handy.
What's a Horse Trailer?
Horse trailers are special types of trailers designed specifically to accommodate one or more horses (some even have living quarters).
They are towed behind a vehicle or RV, making it very easy and safe to transport horses anywhere.
Horse trailers come in many different sizes with capacity for one or more horses and have different ways of loading horses.
What Types Of Horse Trailers Exist?
According to Eascoasthorses.com, there are many ways of classifying horse trailers depending on: the hitch, the load, and others.
Depending on the hitch, horse trailers can be classified as bumper pull horse trailers or tag-alongs, gooseneck horse trailers, and fifth-wheel trailer hitch; horse trailers can also come with living quarters.
Depending on the loading, horse trailers can be classified into slant load, center load, straight load, and reverse load; for loading, horse trailers can be step-up or have a ramp.
Other types of horse trailers are livestock trailers and enclosed horse trailers.
What Affects The Price Of A Horse Trailer?
Some factors that will affect the price of a horse trailer are the type of construction material, horse capacity, loading type, ventilation, amenities if it has or not living quarters, size, year and condition,
The construction material is one of the major price-determining factors, and horse trailers can be made of aluminum, fiberglass, or steel; aluminum has a long lifespan and is low-cost maintenance but expensive, fiberglass is cheaper and lightweight but it gets damaged easily, and steel is cheaper but heavy and high maintenance.
A slant-load bumper pull or gooseneck horse trailer can cost $5,000 to $30,000 or more, while a straight-load trailer can cost $5,000 to $17,000.
Adding living quarters will increase the price of the horse trailer, which can cost $35,000 to $100,000.
Basic livestock trailers can cost $4,000 to $50,000 or more.
As with any other trailer, horse trailers start depreciating once they are bought, which means you can find three years old used horse trailers in good condition for 25% less than their original price.
Top Companies
Some of the major horse trailer manufacturers include Cimarron, Elite, Lakota Horse Trailers, Exiss, Featherlite Trailers, Adam Trailers, Merhow, Homesteader, Sundowner, and Thuro-Bilt.
There are also online websites specialized in selling new and used horse trailers like HorseTrailerWorld.com and TrailerShopper.com.
The following comparison from HorsesAField.com shows price examples of horse trailers depending on the condition, brand, and type of different sizes:
Condition
Type
Living quarter
Manufacturer
Price
Load Type
New
Gooseneck
Yes
2 Horse Logan Coach (2022)
$148,382
Slant
3 Horse Sundowner (2020)
$109,997
Slant
4 Horse Bison (2021)
$47,564
Slant
4 Horse Cimarron (2021)
$92,720
Slant
3-6 Horse Double D (2021)
$88,787
Slant
No
3 Horse Logan Coach (2022)
$20,997
Slant
3 Horse Sundowner (2022)
$28,417
Slant
2 Horse Logan Coach (2021)
$33,261
Straight
6 Horse Logan Coach (2021)
$86,852
Slant
4 Horse Cimarron (2022)
$69,149
Slant
Bumper Pull
2 Horse Double D (2021)
$19,076
Straight
3 Horse Sundowner (2022)
$31,312
Slant
2 Horse Logan Coach (2021)
$28,596
Slant
3 Horse Double D (2021)
$27,907
Slant
3 Horse Titan (2020)
$8,130
Slant
Used
Gooseneck
Yes
2 Horse 4Star (1993)
$16,995
Straight
3 Horse Sundowner (2018)
$119,995
Slant
4 Horse Dream Coach (2004)
$19,995
Slant
4 Horse American Spirit (2005)
$29,995
Slant
3 Horse Blue Ribbon (2013)
$69,995
Slant
No
2 Horse Prolite (1992)
$7,495
Straight
2 Horse Sundowner (2013)
$19,995
Straight
3 Horse Logan Coach (2020)
$35,995
Slant
6 Horse Merhow (1997)
$13,995
Slant
3 Horse Adam (2004)
$13,495
Slant
Things To Consider
Before Buying
First, you need to decide which type of horse trailer is the best option for you depending on the number of horses you have and your budget.
Then look for the different models and brands of horse trailers to get a price estimation.
Some estates required horse trailers to be registered. Registration fees typically cost between $50 to $200.
A license tab will be required for the horse trailer depending on the estate you live in, which can cost $10 to $80 annually.
Horse trailers need insurance, which doesn't come with regular car insurance. Typically, comprehensive and collision coverage for a horse trailer can be added to the policy. On average, this can cost $350 per year or $29 per month for coverage.
When Buying
Most states require that trailers with a weight over 1,500 must have brakes on all wheels, which can be surge brakes or electric breaks. Keep in mind that surge brakes are illegal in some states.
The towing vehicle in charge of towing the horse trailer needs to have a hitch. Most horse trailers need a ball trailer hitch, which can cost $200 to $500 or more. A gooseneck hitch can cost $400 to $800, and a fifth-wheel hitch can cost $400 to $1,500.
After Buying
If the horse trailer is wider than the towing vehicle, you'll be required to install extended side-view mirrors, which can cost $4 to $50 for clamp models or $150 to $450 for permanent models.
A breakaway system as security to stop the horse towed trailer if it gets loose can cost $10 to $40.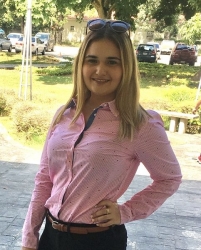 Latest posts by Giovanna Soto
(see all)