$

Average Class A RV: $50,000-$150,000+

$

$

Luxury Class A RV: Up to $500,000+

$

$

$

Customized Class A RV: Up to $800,000+
Many people dream of packing their things and start traveling everywhere but don't want to let the commodity of their houses behind; this is what makes Class A Motorhomes the perfect solution for them.
Class A Motorhomes are the house on wheels people have dreamed of; they are the most complete RV in the market, with all the amenities a real home can offer and with enough power to make road trips in style.
These giants of the road can be 24 feet up to even 40 feet or more; however, even when they are the bigger of their type, Class A Motorhomes come in many different sizes and styles and can be customizable too, just to appeal to all buyers.
What Affects The Price Of A Class A Motorhome?
The average Class A Motorhome includes amenities like a bed, a bathroom, a kitchen, and storage space; this video made by RVBlogger provides an overview example of a Class A RV.
But, from the basic arrangement, and depending on many factors, improvements, and customizations, the final price of a Class A Motorhome can go up.
Class A RVs are the most expensive class of motorhomes that exist, and the factors that can affect the final price of one are the manufacturer, the size of the RV, the floorplan, extra features, and how old it is.
A new standard Class A Motorhome can cost from $50,000 to $150,000; more luxurious or options, or with more space and amenities can cost up to $500,000.
Customizing a motorhome will bring the final price much higher than usual depending on the type of customization you want, and prices can go up to $800,000 or more for a fully customized Class A RV.
A more affordable and popular option is to buy a used motorhome; after buying, motorhomes start to depreciate, and you can find Class A RVs just a few years old for 20 to 30% less than the original price.
Also, some people prefer to rent a motorhome before buying one; renting a Class A Motorhome can cost from $1,400 to $3,500 for seven days or a 700-mile trip.
Top Companies
Some of the most popular motorhome manufacturers are American Coach, Coachman, Entegra Coach, Fleetwood RV, Forest River RVs, Jayco, Newmar RV, Thor Motor Coach, Tiffin Motorhomes, and Winnebago.
Dealers have many more options and different types of brands to choose from but tend to charge at least 20% more than the original price of the RV.
The following comparison shows the average price for a Class A Motorhome depending on the brand:
| | |
| --- | --- |
| Manufacturer | Average Price Range |
| American Coach By REV Group | $350,000-$500,000 |
| Coachman | $119,000-$250,000 |
| Entegra Coach | $189,000-$299,000 |
| Fleetwood RV | $115,000-$355,000 |
| Forest River RVs | $99,000-$249,000 |
| Jayco | $119,000-$229,000 |
| Newmar RV | $210,000-$359,000 |
| Thor Motor Coach | $109,000-$279,000 |
| Tiffin Motorhomes | $189,000-$347,000 |
| Winnebago | $95,000-$249,000 |
This article made by RVingKnowHow.com explains the characteristics of each of these manufacturers and Class A Motorhomes in more detail.
Used Class A RVs are also a popular option between RV buyers; here's a comparison between some used models of Class A Motorhomes:
| | |
| --- | --- |
| Model | Price |
| 2015 Jayco Precept 35UN | $114,000+ |
| 2017 Thor Motor Coach Windsport 31S | $133,000+ |
| 2017 Winnebago Vista LX 30T | $137,000+ |
| 2017 Forest River 38' Georgetown XL A190 | $112,000+ |
| 2017 Thor Motor Coach Ace 29.4 | $120,000+ |
| 2016 Fleetwood Bounder 36' A165 | $97,000+ |
| 2014 Forest River Georgetown 38' A166NB | $89,000+ |
| 2011 Newmar Canyon Star 39' A130CL | $79,000+ |
| 2013 Coachmen Encounter 38' A106CL | $76,000+ |
| 2016 Winnebago Vista LX 30' A133CL | $78,000+ |
Things To Consider
Before Buying
First, you need to check the different manufacturers that offer Class A Motorhomes to look at their price range and which one matches your needs better.
In some states, a special driver's license is required to drive motorhomes longer than 40' but not in all states. Check the department of motor vehicles and the regulations for your estate.
If you are thinking about buying a used RV, NadaGuides.com provides an excellent tool perfect for price estimation.
When Buying
Because of their immense size, it is important to know that Class A Motorhomes can be difficult to maneuver, and many dealers include driving instructions when buying them.
A towing hitch is usually a standard added on the rear of most Class A RVs.
These types of motorhomes typically have a tank that holds 100 to 150 gallons.
After Buying
After buying a Class A RV is essential to buy RV Insurance, which can cost $1,000 to $3,000 or more annually.
Campgrounds or RV parks can charge $10 to $40 per night, depending on the location and the amenities offered.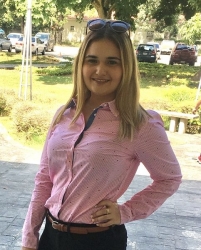 Latest posts by Giovanna Soto
(see all)