$

DIY RV Cover: $50-$150

$

$

Polypropylene RV Cover: $50-$300

$

$

$

Tyvek RV Cover: $300-$1,200+
Motorhomes or RVs are expensive investments, so taking good care of them and protecting them from the elements is important.
From adventurous people that live in their RV full time to someone that only enjoys motorhome life from time to time, an RV cover is one of the principal accessories motorhome owners need to purchase.
There are many types of RV covers, and depending on the weather, getting one of them will be more or less of a priority, but having one will always be beneficial to enlengthen the lifespan of the RV.
What Are The Pros And Cons Of RV Covers?
According to The Wandering RV, it's important to understand the pros and cons of getting one before getting an RV cover.
The following table contains the difference between the pros and cons of RV covers:
| | |
| --- | --- |
| Pros | Cons |
| Reduced maintenance | Adds an extra chore |
| Protecting your RV from UV damage | You might fall to your doom or break stuff |
| Less exposed | Another thing to store |
| Save the paint | Short lifespan |
| Water protection | |
| Prevents dirt build-up | |
What To Consider When Buying A RV Cover?
According to TheCrazyOutdoorMama.com, when looking for RV covers, there are a few things to consider:
Size.
Fabric Material.
Access.
Vents.
Price.
Tire Covers.
Different RV Covers' Fabric Materials
RV covers are made of different types of fabrics; here are some of the most common fabric materials for RV covers:
Polyethylene: This material is strong, water-resistant, tear-resistant, and breathable. Great for wet and windy climates. The Tyvek (nonwoven high-density polyethylene) is a great example.
Polyester: This material is great protection against UV sun rays. Great for places with sunny and dry climates.
Polypropylene: This material is breathable, wear-resistant, and partially water-resistant. This is a very common material for RV covers, and since it's not entirely waterproof, it's often used as a second protective layer.
Solution-dyed acrylic: This material is UV resistant and waterproof. Great for all-weather protection.
How To Chose The Best RV Cover For You?
As mentioned before, there are many factors to consider when looking for an RV cover, and depending on them, prices can be lower or higher.
The fabric or material of the cover is an essential factor that greatly affects the final price; using cheap materials like polypropylene will make it less expensive than with other materials like woven polyester.
But choosing the right material for you will depend greatly on your location and the weather where the RV is parked.
Size is also one of the major factors that affect the price of an RV cover; getting an RV cover for a Class A motorhome will be much more expensive than getting one for a Class B motorhome.
RV zip covers made from universal-fit polypropylene can cost $50 to $300.
More high-quality custom-fit or semi-custom fit RV covers made from durable materials like woven polyester or Tyvek can cost from $300 to $1,200 or more.
There's also the DIY option of making an RV cover yourself, which is the cheapest option; using a standard tarp held by bungee cords can cost $50 to $150.
Top Companies
Some of the major RC cover manufacturers are Adco Products, CalMark Cover Co., and Camco.
You can get RV covers online at retailers like Amazon, Camping World, ToyBoxCovers.com, or JC Whitney, or you can get an RV cover through local RV dealers.
The following example shows a price comparison between different manufacturers and different types of RV covers:
Name
Company
Size
Price
UltraGuard Pop-Up Covers
Camco
-46″ high

-87″ wide

-6′-18′ lengths

$80-$125
Polypropylene Class A RV Covers
Adco
-110″ high

-102″ wide

-20′-40′ lengths

$165-$280
Custom Tyvek Class A Motorhome Cover
ToyBoxCovers.com
-20′-40′ lengths
$500-$1,100
Crowsurvival.com made an article talking about the best 10 RV covers of 2021, explaining their pros and cons, the price, and where to get them.
Things To Consider
Before Buying
First, do some research about the different fabric material options there exist and, depending on the weather of the place you live and the climate conditions your RV is exposed to when parked, select the one that best meets your needs.
Make sure you have the exact measures of your RV before buying, so you select the correct size cover for your RV.
If you choose the DIY option, you only need to purchase the tarp and bungee cords. Be aware that the size of your RV and the quality of the tarp would affect the final price of the cover.
When Buying
When buying the RV cover, this should come with all the hardware and accessories needed to assemble it, including a storage bag.
Some extra covers can be included or be charged separately. A windshield cover can cost $30 to $100. An RV mask or RV bra, which fits over the front end of an RV shielding it against bugs, can cost $50 to 600 or more. And tire covers or tire guards can cost $20 to $50 or more for two.
After Buying
Installing an RV cover is not difficult, but people need to be careful, as typically, the installation requires walking on the RV's roof. Here's a video made by ADCO that shows how to install an RV cover.
Ensure the cover is secured correctly and that it's not rubbing against anything that could cause a tear.
It's always a good idea to have a repair kit for patching RV covers. A patch kit can cost $10 to $20.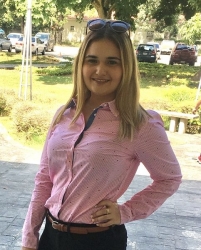 Latest posts by Giovanna Soto
(see all)