$

Custom Car Seat Covers: $200 - $1,800+ (seat covers + installation)

$

$

Car Seat Reupholstering: $500 - $2,000+ (2 bucket seats + back bench)

$

$

$

Showroom Reupholstering: $1,000 - $10,000+
Upholstery in the automotive field refers to all the things included in the car's interior, like car seats, carpets, headliners, door panels, and more.
The interior of the car can get damaged by lots of things like spills, pets, sunlight, and other damaging elements, and the process of renovating, upgrading, and replacing the interior of the car is called reupholstery; this can be done to the whole interior or just a specific area.
Everything in the interior of the car can be changed or replaced, and there's not a specific time to do it; if the interior of your car is worn out or you want to update it, that's reason enough to get a reupholstery service.
Usually, you can find these five types of upholsteries in cars: Nylon, Polyester, Vynil, Fauz Leather, and Leather; each type of car upholstery has its own characteristics and care methods, and you can read all about it in this article made by DetailXperts.
What Types Of Reupholstering Can I Do?
Depending on the damage or wear the interior or your car has, you can opt for distinct ways of reupholstering it.
You can get a reupholstery service for your car at automotive upholstery shops, some car audio centers, or furniture upholstery shops.
It's important to note that the prices will vary depending on the year, make and model of the car, the type of upholstery the car has, the level of damage it has, the type of reupholstering you want (restoration or replacement), where you perform the job, and the professional labor costs.
The easiest way to give your interior a newer look with a very straightforward way is to get custom seat covers that are custom made to fit your car, and they can cost from $200 to $1,000 or more per row.
Getting the seat covers installed by an auto upholstery will make the final price raise because they can include adding foam or repairing springs if it's needed, which can cost $100 to $800 more, making the final price $200 to $1,800 or more per row for the professional installation of custom seat covers.
Universal seat covers are the cheapest way of reupholstering your car; they are easy to install yourself and can cost from $10 to $70; although they can't compare to custom seat covers, they will make the car look better.
You can also opt to get your car seats professionally reupholstered by renovating them (replacing fabric, adding foam, repairing springs, etc.); reupholstering seats can cost from $200 to $750 per seat or $500 to $2,000 for two bucket seats and a back bench seat.
Headliners and carpets can also be replaced; replacing headliners can cost $175 to $450, and replacing the carpet can cost $700 to $1,200.
A complete renovation of the interior of the vehicle, called "showroom," is done when you want to change everything, from the seats to the carpets and more; for basic materials, a showroom service can cost from $1,000 to $4,000, but for high-end materials like leather, prices can go from $5,000 to $10,000 or more.
If you are tight on the budget, then there's a possibility of reupholstering your own car at a certain level, and if there's not too much damage; there exist car seat repair kits that cost even $20, and they can fix stains, rips or tears in no time.
But, depending on what you want to do, DIY reupholstering costs can cost as much as $200, and here's a video on how you can reupholster a car seat just by buying the materials.
Things to Consider
Before Buying:
Make sure you know what you want to do with your car's upholstery because that will affect the costs. The more you want to renovate and replace, the more expensive it is.
Research upholstery repair shops near you and ask for photos and references from previous jobs.
If you want to do an upholstering job but are tight on the budget, the cheapest alternative is to make it DIY or get universal seat covers.
When Buying: 
Reupholstering usually requires removing the parts that will be renovated or replaced from the vehicle, such as the seats, carpets, side panels, and headliners, depending on what you want.
If the upholstering service includes some simple repairs, it can add $150 to $300 or more to the final price.
After Buying:
After performing a reupholstering service, it is necessary to care for your car's upholstery. Many things can tear and wear the interior of your car, like children, pets, and sun rays, and each type of upholstery has its own way of caring and cleaning. So, you should check this article that explains how to clean all types of car upholstery and how to take care of it.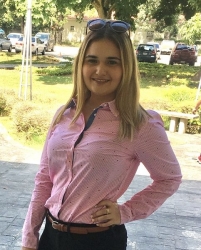 Latest posts by Giovanna Soto
(see all)