$
$
$
Average: Over $28,800
For many people, it is not easy to buy a new car or to pay a high loan monthly for a new vehicle.
For those reasons, many decide on buying a used car as the best option for them.
But buying a used car is not as easy as just going to the dealer and buying the one you like the most, and it needs many considerations.
What Can Affect The Price Of A Used Car?
According to CarAndDriver.com, in the late months of 2021, the prices of used cars were sitting over $27,500, 28% higher than the year before.
At the beginning of 2021, the prices of vehicles were already climbing due to the chip shortage and supply-chain disruption that started in 2020 due to COVID-19; according to the National Automobile Dealers Association (NADA), the average price of a used car was $23,643 in 2021.
This not only affected the prices of new cars due to the short supply they were experiencing but also affected the price of used cars, making them go up as the demand went up.
With prices not going down any time soon and actually climbing due to the supply-chain disruption, according to Kelley Blue Book, in 2022, the average price for a used car will sit over $28,800.
But, aside from this, some other simpler details or factors can affect the price of a used car, such as the year, make, and model of the vehicle, mileage, previous damage, previous owner(s) history, and modifications, accessories, or special features.
Between Age Or Mileage, Which One Is More Important When Buying A Used Car?
People know that used cars will have some type of wear and tear from the previous use, and then the question about what affects a used car more arises.
Very often people will look at the car's mileage when buying it, thinking that a low-mileage car is a good one, even when the car is five or ten years old, but that's not entirely true.
A not so old vehicle of only two years old with low mileage may seem like a good deal at first, but if the owner didn't do any of the scheduled maintenance services and had bad driving habits, then that vehicle will show signs of wear and tear faster, without mentioning other maintenance issues.
So what people really need to be aware of is not the vehicle's age or mileage, but how the previous owner treated and maintained the vehicle over the vehicle's life.
Where To Buy?
Going to a local dealer to buy or look for a used vehicle is the best option for this case; dealerships often offer financing options and are open to negotiation.
You can also buy a used car from a private seller, probably the actual owner, but they don't give any warranties.
Online websites like vehix.com, craiglist.org, or Facebook Marketplace are great sources where you can review recent ads for used cars.
If you already know the type of car you want, using a car pricing service is a good idea before going to the dealer; providers of these services that can help you determine the average price for a specific model of a used car are the Kelly Blue Book, Edmunds, and VMR Auto Guides.
If you haven't already decided which type of car you want, you can take a look at a list of recommended vehicles based on reliability.
According to this Forbes article, the Consumer Reports Auto Reliability did a survey which concluded that the top 10 most reliable vehicle models in 2021 were:
Lexus GX.
Kia Niro EV.
Toyota Prius Prime.
Toyota Prius.
Cadillac XT5.
Mazda MX-5 Miata.
Honda Insight.
Toyota Highlander.
Subaru Crosstrek.
Mazda CX-9.
Things To Consider
Before Buying
First, think about the type of car you want to buy or the type you need.
Start looking for dealers near your location or a private seller selling the vehicle you want.
Check online for reviews on that car in forums where owners posted reviews and evaluations.
Compare prices using the Kelley Blue Book or Edmunds.
When Buying
Check the vehicle thoroughly when you buy it, both the inside and the outside of it.
Ask the dealer or private seller if there's something wrong with the car or there's something you should be aware of.
Try to get the car's VIN (Vehicle Identification Number) to research the car's history. Carfax.com offers a powerful tool to look for a vehicle's history report for $20.
To get an idea of how much wear the car has undergone, you can calculate the miles driven per year.
Try the electrical system and all the accessories of the dashboard panel of the car, like wipers, A/C, horn, and lights.
After Buying
It's important to have the car inspected by a professional mechanic after buying it to ensure there's nothing wrong with it.
It's advisable to do regular maintenance services from the moment the car is yours to create a new maintenance schedule.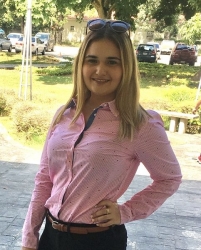 Latest posts by Giovanna Soto
(see all)