$

Basic Auto Detailing Service: $20-$150

$

$

Standard Auto Detailing Service: $100-$300+

$

$

$

Deluxe Cars Auto Detailing Service: $150-$500+
If you've seen people trying to sell their car, you've surely heard of auto detailing, but what do we really know about it?
Auto detailing is a service that uses many methods and products to return your vehicle to its original state by removing interior and exterior damage.
This service is essential for selling the car in a good state, but auto detailing be done regularly to keep your vehicle always in perfect condition.
Professionals should perform this service to achieve good results, and aside from what many people think, auto detailing is much more than just washing your car, as it's a much more precise and labor-intensive service.
What's Included In An Auto Detailing?
Each shop or carwash that offers auto detailing services has a different approach, but everyone agrees that it includes interior and exterior services that focus specifically on each area.
Exterior detailing involves cleaning and restoring the original condition of the surface and exterior of your car (painting or body repairs are generally not included), while interior detailing involves a deep cleaning of the whole interior.
Depending on what's included, the make and model of the vehicle, the car condition, and the place, an auto detailing service can cost from as little as $20 to as much as $500 or more.
This type of service is typically offered at car washes, specialty stores, auto body repair shops, or mobile companies using specialized trailers.
For a basic auto detailing service that generally takes 30 minutes to two hours, the price range goes from $20 to $150; this can include basic hand-wash and wax of the exterior and basic interior cleaning.
For a more standard auto detailing that can take two to five hours, the prices can go from $100 to $300; this can include the external wash, wax, remove surface contamination using a clay bar, polish, and interior cleaning and conditioning.
Luxury cars detailing services are the most expensive and tend to last longer (from five to twelve hours or more) because they use high-end products and pay close attention to details, making prices go from $150 to $500 or more.
For auto detailing, DIY is another option to consider; the costs can vary depending on what you want to do, as you need to buy supplies beforehand, which can cost from $5 to $100 or more.
DIY can save you money in the long run by prioritizing the part of your car that needs it and keeping the products you didn't use for the next time you need to make a touch-up (but this is recommended for minor touch-ups only).
Price Difference Between States
Auto detailing costs can be modified by many things, as we've already mentioned, but also, the State you live in can modify the price range, as exposed by MobileTechRX.
| | | | | |
| --- | --- | --- | --- | --- |
| Average Price | <$100 | $100-$150 | $151-$200 | >$200 |
| State | Hawaii | California, Florida, Georgia, Louisiana, Nebraska, Nevada, New Hampshire, New Mexico, New York, North Carolina, Oklahoma, Pennsylvania, Utah, Wisconsin | Arizona, Colorado, Indiana, Kentucky, Maryland, Massachusetts, Michigan, Missouri, Ohio, Tennessee, Texas, Virginia, Washington | Idaho, Illinois, Kansas, Oregon, South Carolina |
Things to Consider
Before Buying:
Look for car washes, specialty stores, or auto body repair shops near you that offer auto detailing services and ask them for photographs of recently detailed vehicles to see how they work and their results.
Ask about what's included in the auto detailing service of each shop and carwash to see which one meets better your car needs so you won't have to pay extras later.
Look for discounts. Many shops and carwashes that offer this service also offer discounts for pre-paid services or multi-vehicle customers.
When Buying: 
The professional who performs the auto detailing service has to analyze the car before doing anything, including the paint, exterior, interior damages, and exterior conditions. The analysis is made for costs estimation purposes and to know the car's condition.
Depending on the vehicle's condition and what you want, a basic detailing job can usually take up to five hours.
You have to be aware that there can be additional fees of $10 to $100 for extra services that aren't included in your auto detailing package or if some areas were very stubborn to clean and need additional cleaning.
After Buying:
Try to schedule an auto detailing service every once in a while to keep your car always in its best condition.
If you perform this service frequently, you probably won't spend a lot of money on them, as the work the professionals have to do on the car won't be as intensive as if you never performed them.
Aside from the financial benefits this service provides, auto detailing also has some interesting health benefits. You can read all about them on this page.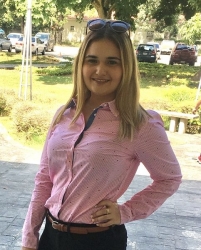 Latest posts by Giovanna Soto
(see all)