$

Car Alarm (Only System): $30 - $850+

$

$

Basic Alarm System + Installation $80 - $500

$

$

$

Advanced alarm system + Installation: $400 - $1,300+
Car owners like myself are always worried about the possibility of a thief trying to steal my car or vandalism that harms the vehicle.
Protecting one's vehicle has always been a topic of interest between vehicle owners, and the measures built-in inside the car to protect it have been increasing over the years, being one of the most basic car alarms.
A car alarm's primary function is to make you notice (and everybody else) when someone is trying to access your car without permission; thanks to car alarms and other measures, car thieving has been decreasing over the years; here's an article about the effectiveness of car alarms by The Zebra.
Many new vehicles come with a built-in basic alarm, but in some cases, this can be insufficient, like in areas with a high crime rate, making owners want to add an upgrade alarm system.
And, some old vehicles don't come with an alarm system, making owners want to add it to have a thief protective measure.
Both cases will require buying a new alarm system and installing it into the car, but there are many things to consider when doing it.
What Factors Can Affect Car Alarm Installation Costs?
There are many factors that can affect your final price at the moment of installing a car alarm system, and they also will help you decide which is the best option for you.
Between these factors, we can mention: The type of alarm system (explain by this article made by Carlock), the complexity of the security system, labor costs (which can cost $50 to $200 depending on the complexity of the alarm system and the type of vehicle), location, and others.
While some alarm systems are very basic and easy to install (they can tell if someone forced the locked door), other systems are more complex and harder to install (they can tell if someone bumped your car).
Depending on the complexity of the alarm system and how difficult it's to install it in your car will vary the labor price.
So, all these factors will determine how much you will pay for installing a car alarm; then, if we talk about possible upgrades to the alarm system, the price will get even higher.
Basic car alarm system prices go around $30 to $300; this can include a siren, one or two remote controls, and a simple controller.
The installation of a basic car alarm system can cost around $50 to $200 or more, making the total cost for a basic alarm system installation $80 to $500.
Advanced vehicle security system prices go around $300 to $850 or more; this can include a more significant number and various sensors, a sophisticated brain, more effectiveness, and other things like a camera or a remote ignition starter.
The installation of an advanced car security system can cost around $100 to $450 or more, making the total cost for an advanced alarm system installation $400 to $1,300.
Top Retailers
You can buy your car alarm system and get it installed by retailers like Best Buy, Sears, or Walmart, or you can just buy the alarm system sold by online retailers like Amazon.
Here are some price comparisons between different car alarm systems, without installation costs, which were considered part of the best car alarm systems by Safewise.com:
| | |
| --- | --- |
| Car Alarm System | Price (without Installation) |
| Viper Value 1-Way Security + Remote Start System | $40 |
| Viper Color OLED 2-Way Security + Remote Start System | $305 |
| Python SmartStart | $150 |
| Python 2-Way Security and Remote Start System | $195 |
| Avital 2-Way LCD Remote Start With Security 5303L | $105 |
| CrimeStopper Universal 2-Way LCD Security and Keyless Entry System SP-302 | $77 |
| SCYTEC MobiLink 777 2-Way Car Alarm Vehicle Security System With Smartphone Integration | $240 |
| Excalibur AL-2050-EDPB 2-Way Car Security and Remote Start System | $260 |
Also, you can check this recent article made by Forbes Wheels, where they list the best car alarm systems of 2021 and why they chose them.
Things to Consider
Before Buying:
First, you have to decide the type of alarm system you want and your motive to buy it.
Then, after being clear on what alarm system you want, you should look for different retailers and the brands and different types of car alarm systems they sell.
Check your car and the factory alarm system to see if it's available for your specific model of car.
Some of the newest upgrades in the alarm system include connecting it to your smartphone. Ask your retailer about this feature and if he offers upgrades.
Although doing DIY will lower your costs a lot, you need to have a certain level of expertise to do it. But just to show you how it's done, here's a video of how you can install your car alarm system at home.
When Buying: 
First, check if your retailer offers car alarm installations after buying the car alarm system.
Then, after buying your car alarm system is the installation moment, which can last 2-3. But if your car needs intensive wiring or extra equipment, it could take up to 5 hours.
The technician that will install the alarm system requires electronics knowledge to install it correctly and the right tools to do it.
After Buying:
After having your car alarm system installed, you should ask the retailer which upgrade options it has. These typically are: vehicle starter disabler, 2-way alerts, and smartphone connectivity. Each of these is installed individually, and they will increase your final price.
| | |
| --- | --- |
| Car Alarm System Upgrade Option | Price Range |
| Vehicle starter disabler | $50 – $100 |
| 2-way alerts | $200 – $350 |
| Smartphone connectivity | $150 – $200 |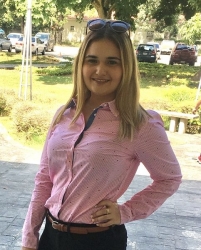 Latest posts by Giovanna Soto
(see all)