$

Used: $2,500-$30,000

$

$

Soft-Sided Truck Campers: $8,000-$30,000

$

$

$

Hard-Sided Truck Campers: $20,000-$50,000
Truck campers, or slide-in campers, are a type of RV trailer designed to fit into the cargo area of a pickup truck.
These campers, also known as pickup campers, are not a vehicle, nor are they motorized, but as they fit over a pickup truck, they are easier to maneuver and very versatile.
What Types Of Truck Campers Exist?
There are two types of truck campers: The "Soft Sided" truck camper and the "hard-sided" truck camper.
The soft-sided model is very compact because it has canvas sides; when traveling, the soft-sided truck camper folds down, compacting itself into an aerodynamic shell.
And a great feature is that, when the truck is parked, the soft-sided camper stays into its full size on its own.
Meanwhile, a hard-sided truck camper has rigid walls and doesn't collapse.
The hard-sided model has a taller profile due to its walls not collapsing, making them heavier.
But the hard-sided truck campers can include more amenities than soft-sided models.
What Affects The Price Of A Truck Camper?
Some factors that can affect the price of a truck camper are the manufacturer, the type and model, size, dealer prices, toilet, storage space, amenities, and customizations.
A standard truck camper can cost about $3,000 to $15,000.
Soft-sided truck campers can cost $8,000 to $30,000, and hard-sided truck campers can cost $20,000 to $50,000.
More luxurious models can cost from $60,000 to $80,000.
Like many other RVs and motorhomes, truck campers start depreciating after purchase, so you can find a used model in good conditions that costs $2,500-$30,000 depending on its condition, age, and manufacturer.
Top Companies
Some of the most popular truck camper manufacturers are Adventurer Manufacturing, Bigfoot Industries, Bundutec USA, Capri Camper, Host Campers, Lance Camper, Northern Lite, Northstar Campers, Northwood Manufacturing, nüCamp RV, Palomino RV, Rugged Mountain RV, and Travel Lite RV.
It's important to know that you need to have a pickup truck to carry the truck camper around, and the truck needs to match the truck camper model.
Some dealers offer truck campers offers; dealers tend to charge 20% more than the original price, but they are open to negotiation.
You can also search for truck campers at online websites like rvtrader.com and rv.campingworld.com.
This example of GoTravelTrailers.com shows the price difference between different truck campers' brands and models:
| | |
| --- | --- |
| Brand and Model | Price |
| 2019 Lance 975 | $37,800 |
| 2019 Forest River Palomino (Soft-Side)  | $11,999 |
| 2020 Adventurer Eagle Cap 1200 | $58,985 |
| 2020 Host Mammoth | $68,999 |
| 2019 Northwood Arctic Fox | $29,990 |
| 2020 Northern Lite 10.2 EX Limited | $49,275 |
| 2020 Travel Lite Super Lite 590 | $12,695 |
| 2020 Adventurer 80RB | $24,207 |
| 2019 Northwood Wolf Creek 850 | $33,985 |
| 2019 Host Cascade 10.6 Smokey River | $52,911 |
| 2020 Palomino Real-Lite HS-1912 (Hard-Side) | $25,995 |
| 2020 Northwood Arctic Fox 900 Long Bed | $36,988 |
| 2020 Northstar Laredo SC | $26,845 |
| 2020 Lance Short Bed 855S | $53,769 |
| 2020 BigFoot 2500 9.4 Series Short Bed | $41,525 |
| 2018 Rugged Mountain Polar 860 | $19,988 |
| 2018 NuCamp Cirrus 820 | $27,995 |
Things To Consider
Before Buying
First, check out the different manufacturers, dealers, and online pages to check the different models and prices of truck campers available and which one is the best option for you.
Check the required truck needed for the truck camper you want. Typically a medium or heavy-duty pickup truck is needed, which can cost $20,000 for a half-ton to $50,000 or more for a one-ton truck.
It's recommended first to get the camper and then the truck, as they need to match. To pick up the perfect truck that matches the truck camper you want, Truck Camper Magazine lists tips for choosing a truck camper, a truck, and how to match them.
If you want to buy a used truck camper, NadaGuides.com provides a tool to get a price estimation. And ChanginGears.com provides checklists for inspecting RVs before buying.
When Buying
Truck campers typically include a bed area above the pickup cab, a table/sitting area, a toilet, and a small food prep area.
It's essential to know the difference between "wet bath" and "dry bath" when buying a truck camper. A wet bath means the shower and toilet are combined, while a dry bath means they are separate, and the bathroom has more space. A dry bath can increase the price of a truck camper.
For pickup recommendations, manufacturers recommend at least a 3/4 ton pickup.
To attach the truck camper is necessary to tie it down and buckle it up to the truck's bed. These need to be strong to absorb any shock when driving.
A rubberized bed matt is also needed to go on the truck's bed to protect the camper from sliding.
After Buying
Sometimes side-view mirrors are required. These mirrors can cost $4-$80 for detachable clamp models or $150-$450 for permanent models.
Getting insurance for the truck camper is essential. Insurances for truck campers cost less than other RVs. The reason for this is that the pickup is already insured, and the camper is considered cargo, so it can be covered with a cheap insurance policy.
Campgrounds or RV parks can charge $10 to $40 per night, depending on the location and the amenities offered.
RV storage space can cost $20-$450 per month, depending on the type of storage.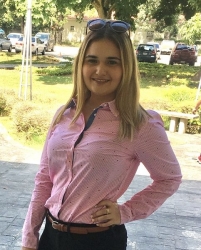 Latest posts by Giovanna Soto
(see all)