$

Single Canoe/Kayak trailer: $600-$1,500

$

$

Single-axle boat trailer: $700-$3,000

$

$

$

Tri-axle boat trailer: $5,000-$8,000+
Having a boat and passing the free time using it with the family is a great experience, but boat owners know very well that although boats move freely in water, they need a boat trailer to transport them on earth.
Boat trailers are used to transport boats with a length of 14′-25'.
Usually, both the boat and the boat trailer are bought together, but this is not always the case.
Or, in some cases, boat owners want to upgrade to a better boat trailer that's more durable and with heavier capacity.
What Types Of Boat Trailers Exist?
According to GoDownSize.com, boat trailers can be classified into seven categories, depending on how much weight they can handle and what are they used for:
Single Axle Boat Trailer
Tandem Axle Boat Trailer
Tri-axle Boat Trailer
Personal watercraft trailers
Kayak or canoe trailers
Submersible/Float-on Trailers
Roll-Off Trailers
What Affects The Price Of A Boat Trailer?
Some factors that can affect the price of a boat trailer are the manufacturer, size, weight capacity, wiring, launching system, the frame (which can be aluminum, galvanized, or steel), and design.
A lightweight single-axle boat trailer of 14' long can cost $700 to $1,100 or more, while single-axle boat trailers of 15′-20' long can cost $700 to $3,000.
Tandem axle boat trailers of 18′-25' long can cost $1,800 to $5,000 or more.
A Tri-axle boat trailer can cost $5,000 to $8,000 or more.
Boat trailers for personal watercraft can cost $600 to $3,000 or more for do-it-yourself kits, depending on the type of the boat trailer model and materials.
Canoe and kayak trailers can cost $600 to $1,500 for a single canoe/kayak, while it can cost $2,000 to $5,000 or more for a trailer that holds six or up to 20 canoes/kayaks.
Like many other trailers and RVs, boat trailers start depreciating after purchase, so it's possible to find cheaper used but well-maintained options.
Top Companies
Some of the most popular boat trailer manufacturers are BackTrack Trailers, Bass Cat Boats, Bear Trailer Manufacturing, Inc., BoatMate Trailers, LLC, Continental Trailers, EZ Loader Boat Trailers, Inc., Float-On Corp., King Trailers, Inc., Load Rite Trailers, Inc., Rocket Trailers, Rogue Jet Boatworks, Inc., Skeeter Boats, Inc, Trailmaster and Vanguard, Venture Trailers, Inc., and more.
Usually, it costs less if the trailer is bought together with a boat.
For used boat trailers, Nada Guides can provide price estimations.
You can also search for boat trailers at online websites like trailerusa.com and eBay.
This example of Gorollick.com shows the price difference between different boat trailers' brands and models:
| | | |
| --- | --- | --- |
| Brand and Model | Capacity | Price |
| Single Axle Pontoon Boat Trailer for 21′-23' pontoons | 2600 lb. | $2,045 |
| Tandem-Axle Boat Trailer for 24′-25′ Pontoon Boats | 5,500 lb. | $3,595 |
| Ironton Jet Ski and Personal Watercraft Trailer Kit | 610 lb. | $580 |
| 2019 Magic Tilt Double PWC Single-Axle Trailer | 2,000 lb. | $3,000 |
Things To Consider
Before Buying
First, it's important to know your boat's measures and weight to select the proper boat trailer for it.
Then you can choose the material of the frame based on your personal preferences.
Each state has different towing laws regarding boat trailers. Check this article of The American Boating Association that shows charts of towing laws by state.
If you want to buy a used boat trailer, NadaGuides.com provides a tool to get a price estimation.
When Buying
Usually, the boat trailer kit includes brakes, legally required lighting, and safety chains.
Adding a hitch to your vehicle is necessary, and it can cost $50 to $700.
After Buying
Depending on the size of the boat, side-view mirrors are required. These mirrors can cost $4-$80 for detachable clamp models or $150-$450 for permanent models.
An electronic trailer brake controller can cost $40-$200. And a breakaway system to stop a loose trailer costs $10-$40.
Getting insurance for the boat trailer after buying it is necessary. Boats and trailers are usually insured together.
This video made by Brisbane Yamaha shows how to get a boat into a trailer.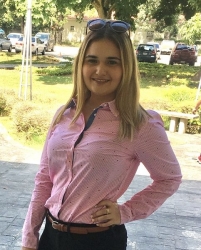 Latest posts by Giovanna Soto
(see all)